Actress Jenny Mollen sparks HUGE debate with nude pregnancy picture
'Why are you naked in front of your kid?'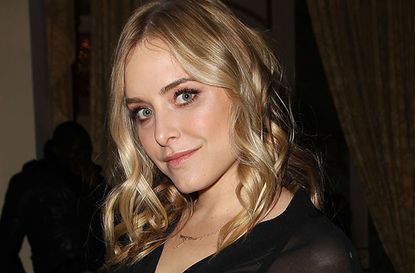 GoodTo newsletter
Sign up to the GoodTo Newsletter. You can unsubscribe at any time. For more information about how to do this, and how we hold your data, please see our privacy policy
Thank you for signing up to . You will receive a verification email shortly.
There was a problem. Please refresh the page and try again.
Jenny Mollen has sparked debate after posting a picture of herself in the shower with her son.
The actress, who recently announced that she was expecting her second child with husband Jason Biggs (opens in new tab), shared the nude photograph of herself in the shower with Sid, three, to her Instagram account with the caption: 'Ah, the joys of expecting... #motherhood 💉🚬🔪⛓💊🍸'
Many fans simply used the snap as an excuse to congratulate the mum-to-be on the happy news, with one writing: 'Congrats, Sid looks super pumped about it!' and another adding: 'Oh man, this looks like my usual food baby 😂 Congratulations!!!'
'I really love this!!' a third exclaimed. 'This is so motherhood! You never have a single quiet spot! Cutest picture ever!'
However, a handful of Jenny's followers questioned whether the image was appropriate to post online, with some taking offence to the fact that Sid was sharing a shower with his mother.
'Why are you naked in front of your kid? He's going to be scared for life now,' one declared, and a second agreed: 'why the fuck would u share something like this??? is nothing sacret anymore...'
Another said: 'Umm thats a bit much ..come on now you could at least been semi dressed.'
'I'd be furious too if I had to bathe in my mother's pubic hair runoff,' one commenter noted of Sid's expression.
It didn't take long for Jenny's others to jump to her defence, saying that it was perfectly natural for a child to see their parents naked.
'Because it's natural and completely normal to be naked around a toddler?' one retorted. 'She's his mother. Are you kidding??'
'F*ck all the haters hating on this pic,' another said. 'I think it's amazing and so are you. Hope your morning sickness passes soon!'
'Maybe if more kids saw their moms' bodies as something they aren't ashamed of, they would grow up not to be ashamed of their own bodies and wouldn't make others feel ashamed of theirs,' a third agreed. 'Keep on!'