Just a Baby app that matches hopeful parents criticised by fertility experts
The app promises to 'find someone to help you make baby'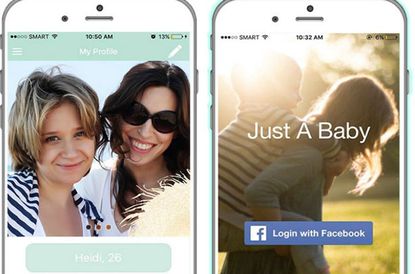 An app designed to connect people who want to become parents has been criticised by fertility experts after launching in the UK.
The Just a Baby app - described as a dating app for hopeful parents - was designed by Paul Ryan and Gerard Edwards, and promises to connect people who want to make a baby.
Depending on the person's situation, this could be a surrogate, partner, co-parent, sperm or egg donor, as well as legal and fertility services.
The app has only been available in Australia until now, where it gathered 1,500 users, but it's now launching in the UK and US.
https://www.facebook.com/justababyapp/videos/579743262216377/
The services offered by the app are similar to those offered by fertility clinics or sperm banks, but it's a speedier and more convenient process that's available at your fingertips.
One of the people using the app is 36-year-old Sharon, who can't carry a baby because she has to take antidepressants which would stop working during pregnancy.
She spoke to Daily Mail Australia: 'I was told I would have to get off my tablets to have a child. And then, when I went and spoke to my psychiatrist, he said the problem is that we don't know if they'd work if I got back on them.
'I don't want to have a baby and then be unwell and leave the responsibilities to my husband. It's really out of the question completely.'
Sharon and her husband have struggled to find someone to help them have a baby via the traditional route: 'It has to be out of the goodness of someone's heart pretty much. You can't really advertise that you're looking for someone.
'I supposed they kind of assume it will be someone in your family, or someone you know that's willing to do it.'
Eve though she hasn't found anyone yet, Sharon says she's happy to be starting the conversation with people on the app: 'I'm just hoping to find someone that will show me a little bit of light.
'That there are people out there, out of good gestures and willingness in their hearts, that are going to do this.'
Paul, one of the co-founders of the app, said he got the idea because a lot of his friends were still single but were thinking about having a baby. 'I was in my thirties and [although] a whole bunch of my friends were getting married, it seemed a lot of people were leftover,' he told the Daily Mail.
https://www.facebook.com/justababyapp/posts/578961762294527
'I saw a lot of anxiety among my friends, and I was freaking out a little bit too. I thought, why is this so hard? Everyone wants to have a baby. Why aren't we just talking about having babies instead of having this perfect happy relationship? Because that doesn't seem to be happening a whole lot.'
Paul also hopes the app also ends the taboo of non-traditional families: 'It's sort of a coming out of the closet, in a way. I'm looking for a sperm donor, I'm having trouble having a baby and I want to shout that out to the world.'
'I think that's a huge step forward. In 30 seconds you're suddenly connected to a whole lot of people in the same boat as you. You're not alone anymore.'
Not everyone seems to be on board with the idea though, as some organisations have criticised the app for not being safe.
'If you require donated eggs, sperm or the use of a surrogate then clinics will be able to offer counselling and donors that have been properly screened', Prof Adam Balen from the British Fertility Society told the BBC.
'We do not advise the use of apps to put people in contact with each other outside of carefully regulated and managed clinical practice.'
What do you think of this new app - irresponsible or a great tool for people who want to have a baby? Let us know in the comments!
Parenting advice, hot topics, best buys and family finance tips delivered straight to your inbox.
Trusted, informative, and empathetic – GoodTo is the ultimate online destination for mums. Established in 2007, our 15-year-strong archive of content includes more than 18,000 articles, 1,500 how-to videos, and 7,000 recipes.