Kate Wright opens up about being a stepmum to Rio Ferdinand's children
Kate Wright talks about being stepmum to Rio's children.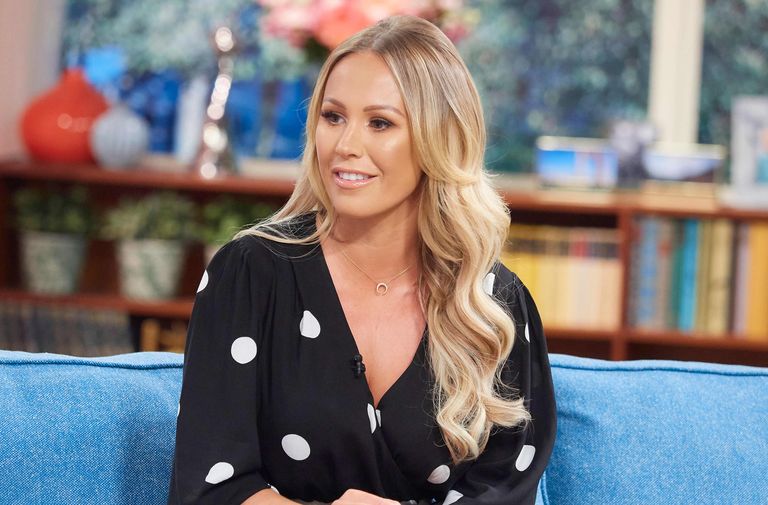 Former TOWIE star Kate Wright has spoken candidly for the first time about playing the role of stepmum to Rio Ferdinand's three children following the loss of their mother and grandmother.
Appearing on ITV's This Morning, Kate revealed 'it is crazy' how she has gone from being a single reality TV star, to doing the school run and cooking dinners every day.
Speaking about giving up her reality TV career for Rio and the kids, Kate said: 'When I did that everyone thought I was crazy. My mum was thinking, 'Oh my god!' I felt like I had two choices. I was in this world that had a lot of drama, it was very public. They had lost their mum, they don't need a woman who is going to be out everywhere. They need someone who's going to be home with them to give them love.'
Explaining to hosts Holly Willoughby and Phillip Schofield that she and Rio, 39, always put his three children first, Kate said: 'A really big part in our relationship, and it working with the children, is that everything we've done we've included them in.
'So, from the first date, to us moving in, to him asking me to be his girlfriend. Everything we have done we've included them in. The kids were part of it. So it feels like I wasn't taking their Dad away from them.'
Kate first met footballer Rio at the beginning of 2017 when they were both holidaying in Dubai, but she admits it hasn't always been so easy playing the role of stepmum.
'At the very beginning one of them said, 'You don't know how to look after children because you don't have any'. I know it sounds really silly, because it's a small child, but it does hurt your feelings a little bit because you really are trying your best,' she revealed.
'As time's gone on, they are used to me more, and you do have set rules for discipline. If their dad's at work, I pretend to record them, and they are like, 'no, don't tell dad!" That does it!
'Of course, Rebecca is their mum. You only have one mum. A mum is irreplaceable. There is a special room in the house for their mum and their nan. It has all photos. We celebrate big occasions, Rebecca's birthday and Mother's Day. We all go to the cemetery together. We do talk about their mum.'
Sadly, Tia, Lorenz and Tate lost their mother Rebecca in May 2015 to breast cancer. Two years later, they also lost their grandmother Janice to cancer too.
'It's just horrendous. She was acting as their mum. She was picking them up from school every day and doing everything for them. It's two major losses,' Kate said of Rio's mum's death.
Kate went on to say she had learnt valuable lessons from her own childhood, and that's especially why she wants to make Rio's children feel included.
'My mum and dad broke up when I was young. I've had a couple of stepmums. This is a really big point as to why we include the kids so much. My dad got re-married and he didn't invite me to the wedding. I will never forget that. I don't want the kids to ever feel how I felt when I was younger.'
Kate didn't confirm whether or not her and Rio are planning to have a baby together, but she did admit the kids keep asking about it.
'At the beginning, it started with Tate at the school saying, 'That's my aunt picking me up, then it that's my dad's girlfriend and now he says stepmum'. Now they say on a daily basis, 'When are you giving us a brother and sister?' When are you getting married. It's lovely how far we've come.
'It is crazy, I didn't even really cook dinner for myself. I lived by myself. Now I'm cooking dinner all the time and doing the school run. At first I was not a good cook. But now they've said my lamb chops are better than Rio's. So we are getting there!' she added.
Words by Kirsty McCormack
Trusted, informative, and empathetic – GoodTo is the ultimate online destination for mums. Established in 2007, our 15-year-strong archive of content includes more than 18,000 articles, 1,500 how-to videos, and 7,000 recipes.