'She's a baby, let her be one' Fans slam Katie Price over latest picture of Bunny's ear piercings
Users were quick to comment on the glamour model's pics...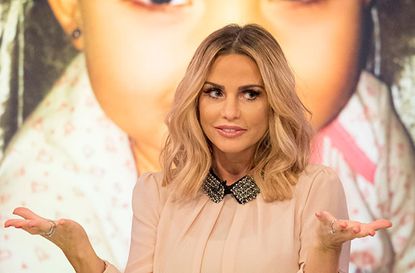 Katie Price has faced a furious backlash on social media after sharing a picture of her daughter Bunny with pierced ears.
Katie shared the picture of her one-year-old daughter with her 1.1 million Instagram followers, captioning it 'Little bops ❤️❤️'
However, followers were quick to react to the image, with one writing 'Sorry - but those earrings look ridiculous, She's a baby, let her be one', and another adding, 'I bet that poor little girl SCREAMED when she had that needle shoved though her ears! All for her mothers vanity.'
'It's unnecessary to pierce a babies ears, they're pretty enough without decorating them like a Christmas tree!' one exclaimed, while some even went as far as to refer to the piercings as 'child abuse'.
Upon seeing the comments, other fans jumped to Katie's defence. 'She's not the only baby in the world with earrings, life goes on and there's more pressing issues in the world,' one retorted. A second said, 'Omg still going on about Bunny having her ears pierced? Booooring. Seriously ppl get a life. Nothing wrong with having ears pierced.'
This isn't the first time that Katie's decision to pierce her daughter's ears has caused controversy. Back in February 2016, the former glamour model shared a similar photograph of her daughter wearing simple stud earrings, and once again, within minutes of posting, the photo drew criticism from fans and fellow parents.
Earlier that month, Katie had come under fire for letting her daughter Princess, eight, wear a full face of make up. Although Princess spoke out saying it was her choice, the mum-of-five was later forced to apologise (opens in new tab), saying; 'You're all right. I was in the wrong.'
But in the case of Bunny's adornments, Katie, former winner of Mum of The Year award, wasn't backing down.
Appearing on Loose Women to discuss the issue, Katie said of the picture that people should 'get over it'.
Katie added, 'I'm not going to sit here and justify myself, she looks really cute.' Clearly annoyed by suggestions on social media that it was like child abuse, she concluded, 'Well what about kids who get circumcised?'
Co-panelist and anchor Ruth Langsford pointed out there were religious reasons behind circumcision, and Katie was quick to point out that her husband's Spanish heritage meant it was a tradition for her family too.
'Mine is - Kieran's half Spanish and it's their tradition. [Coleen] said you were half Catholic they get their ears pierced.'
Ear piercing is not illegal for a 12 month old and is widely regarded as a safe procedure.
She also revealed to the packed studio audience that her eldest daughter Princess wants her ears pierced but her father, Katie's ex-husband Peter Andre, won't allow it.
The snap which caused all of the drama showed the young girl, whose father is Katie's third husband Kieran Hayler, beaming at the camera, wearing her pyjamas, with the caption; 'Gorgeous Bunny bops.'
One commenter said; 'Poor bunny had no choice in this decision and it's HER body. So sad.'
Amy Stevens said; 'Has the baby got her ears pierced... There is no limits with you is there. Personally I think babies shouldn't have ears pierced. Not surprised with your recent events with Princess being plastered in make up.'
Others were more defensive of the Loose Women panelist. Hayley Carpino said; 'I've got 3 girls and when my first two were little I had theirs done at 6 months, they are done both at the same time so less pain, there [sic] at the age when they have all sorts of immunisations anyway!! It's the parents decision and if they grow to hate them the holes in their ears will hardly be gaping ones, easily healed.'
Katie pictured with three of her other children - Junior, Harvey and Princess.
Another commenter, who is an employee at ear piercing shop Claire's accessories said; 'Well I work in Claire's and we do babies ears from four months! If it was that bad we wouldn't be able to do it would we!'
The 37-year-old responded to her critics, saying; 'Thank you to everyone sticking up for me and Kieran is half Spanish all the family have ears pierced! But Princess hasn't.'
What do you think, is Bunny too young to have her ears pierced, or was Katie right in her decision? Comment below!
Trusted, informative, and empathetic – GoodTo is the ultimate online destination for mums. Established in 2007, our 15-year-strong archive of content includes more than 18,000 articles, 1,500 how-to videos, and 7,000 recipes.