How well do you REALLY know kids' TV theme tunes?
The quiz that will determine what percentage of you has been overtaken by motherhood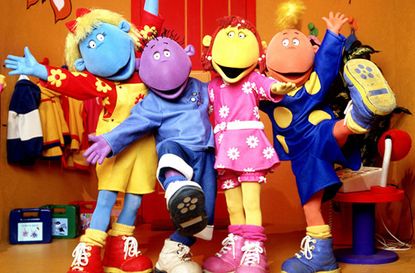 Whether your kids are head over heels for Mr Tumble or over the hill with the Teletubbies, we can all agree on one thing: kids' TV show theme tunes are the WORST.
Tantrums and cries of 'muuuuuuuuum' at 3am aside, there are fewer sounds that we'd rather drown out forever than the dulcet lyrics of Postman Pat's bright red van, or Peppa's infernal snort (seriously, what's with that tiny pig?).
Kids' TV theme songs seems to be specifically designed to drive parents to the brink of losing their [insert offensive word here] without ever quite pushing them over the edge, and as such, we somehow know every single one of them by heart.
We figured we couldn't be the only ones suffering with earworms from Paw Patrol or beats from Bubble Guppies, so we've come up with a foolproof way to get them out of our systems: testing ourselves on the lyrics to see how truly infiltrated we've become.
In the quiz below, you'll find questions about 15 of the most irritating kids' TV theme songs - your only job, fellow parent, is to complete the next line of the song. So for instance, if we say 'what's the story?' you say 'in Balamory'. Incidentally, if you said 'morning glory', parenthood has left you with some cool points that the rest of us have long since lost, so bravo.
At the end, you'll be given a score, which, if you're anything like us, will be pretty much perfect. Whether you take this as a badge of honour or a sign you seriously need to get out more is completely up to you.
Click below to get started, and don't forget to let us know how you get on.
[apester]591b11e231e7fd4071762d0d[/apester]
How many points did you score in the kids' theme tune quiz? Are there any songs that you think are even more annoying than these? Let us know your thoughts in the comment section below!
Trusted, informative, and empathetic – GoodTo is the ultimate online destination for mums. Established in 2007, our 15-year-strong archive of content includes more than 18,000 articles, 1,500 how-to videos, and 7,000 recipes.