'Looks like shaming to me' School criticised for using 'lunch money' stamp on child with low funds in their account
'Like, y'all couldn't send a note?'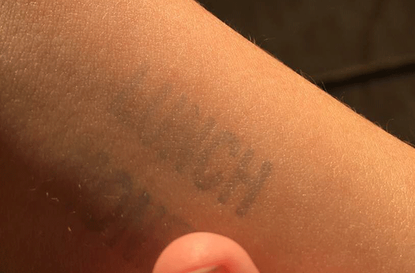 GoodTo newsletter
Sign up to the GoodTo Newsletter. You can unsubscribe at any time. For more information about how to do this, and how we hold your data, please see our privacy policy
Thank you for signing up to . You will receive a verification email shortly.
There was a problem. Please refresh the page and try again.
A school in Arizona has been criticised after sending a child home with a 'lunch money' stamp on their wrist.
An image of the stamp was shared on Twitter by Juan Fortenberry, a friend of the mother of the child in question, who wrote: 'My friend's son came home from school Thursday with a stamp on his arm that said "LUNCH MONEY" because his account was low.'
'And this is apparently the way at least one school in Arizona is notifying parents of dwindling lunch funds. Looks like shaming to me.'
'Like, y'all couldn't send a note? Y'all couldn't think for two seconds about the numerous references of branding someone as a stigma?'
'This is the stamp. On his wrist. That's just weird af to me. At best. It's not like a fun, colorful stamp an elementary school kid would enjoy having. Black text.If a kid's parents don't have any money to deposit to the child's account...do they just keep stamping the child everyday? Seriously'.
The picture soon went viral, with almost 500 retweets and hundreds of responses from equally outraged commenters, who dubbed the process 'ludicrous' and 'disgraceful'.
'Sounds like purposeful shaming when phones, emails and written notes/letters are options. Our new world,' one wrote, whilst another added: 'How could adults think this could be appropriate?!'
After the controversy escalated, Tara Chavez, the boy's mother, told BuzzFeed that she was 'surprised' to see the mark on her son's arm, especially as he still had 75 cents remaining in his account.
'Normally I get a slip in his folder when he needs more money,' she explained. 'He was screaming and crying the entire time. He was humiliated, didn't even want me to take a picture of it.'
'I think there's a better way to communicate the message than stamping a child with the word "lunch money". There's a billion other ways you could do it that would be better than that.'
Tara also shared an email response from the school's principal with the site, which read: '"[The staff member in the cafeteria] doesn't want the students to be embarrassed either so she is supposed to ask them if they want a stamp or a reminder slip'.