'I don't how know how you're doing it' Married mum of two pays heartfelt tribute to single parents
The video has had over 2.5 million views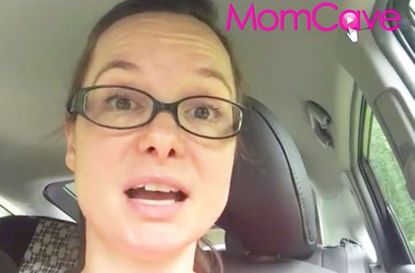 GoodTo newsletter
Sign up to the GoodTo Newsletter. You can unsubscribe at any time. For more information about how to do this, and how we hold your data, please see our privacy policy
Thank you for signing up to . You will receive a verification email shortly.
There was a problem. Please refresh the page and try again.
A married mum of two who's paid a heartfelt tribute to single mums has gone viral on social media.
Jennifer Weedon Palazzo posted the video on Facebook page Mom Cave TV, to say sometimes she feels like a single parent, as her husband travels a lot for work.
'This is a message to all the single moms out there. You're doing an amazing job. How do I know that? Well you're single, you have a kid or more than one kid, and they're still alive', she says in the video that's been viewed over 2.5 million times.
https://www.facebook.com/MomCaveTV/videos/1773985895962300/
'I'm not a single mum but it feels that way sometimes. My husband travels for business a lot. Sometimes people ask where he is and I don't even know because I'm too busy trying to keep these tiny humans alive. I don't have time to check the calendar.
'When he's gone all of the time it's hard. It's hard because I'm the only one there.'
But then Jennifer points out that feeling like a single parent when your partner isn't around is not the same as being a single parent.
'I've heard other married women in my situation say they feel, 'just like a single mum'. And while I get a feeling like you are doing it all on your own, feeling like you are doing it on your own is not the same as actually doing it on your own', she says.
'I know that I'm lucky because while I'm home amidst all the chaos, there is somebody else out there who is working hard to support us, and is a responsible party in this whole responsible parenting thing.
'If you don't have that, it must be doubly, triply, infinitely times harder than it is for me. And right now, it's pretty freakin' hard for me.'
Jennifer then goes on to pay an emotional tribute to all single mums for their amazing work, and even offered to hold their babies so they can be a 'mess' together.
'To all the single moms out there: I see you. We see you. And we might not step in to help because you look like you are doing a pretty damn good job of it. This is really hard I don't how know how you are doing it.
'I'm barely doing it. If there is any way that I can help, even though I'm a mess myself, come over. Be a mess with me. If you need me to hold your baby so you can take a s--t, so be it', the mum said.
The video stroke a chord with many parents, especially single mums, who thanked Jennifer for recognising how hard it is to parent on their own.
'I really needed that. Single mom of 2 autistic kids', one wrote, while another said 'Thank you sooo much, you had me in tears'.
A third commented: 'I love you! I am a single mom that gets roughly three hours of sleep per night. I'm crabby all the time but you, you just made me laugh to tears! Thank you!!!!'