'Sometimes I am just overwhelmed by it' Melanie Sykes reveals struggle to raise son with autism
Her son Tino was diagnosed two years ago...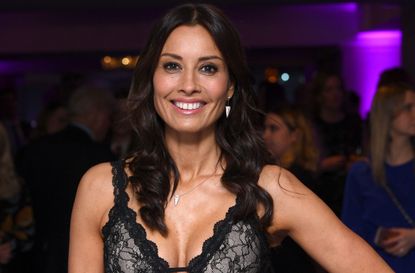 GoodTo newsletter
Sign up to the GoodTo Newsletter. You can unsubscribe at any time. For more information about how to do this, and how we hold your data, please see our privacy policy
Thank you for signing up to . You will receive a verification email shortly.
There was a problem. Please refresh the page and try again.
Melanie Sykes has opened up about raising a son with autism, revealing she was so focused on teaching him how to communicate that she forgot to teach him the 'practical stuff'.
The mum-of-two recalled the horror she felt one day when she realised she had forgotten to teach her son Valentino, 13, how to cross the road after he narrowly avoided being hit by a fast car.
'I have done everything else, I have kept him alive for 13 years, I deserve a medal for it, but I have forgotten to teach him how to cross the road,' she told the Mirror's First Time Dads podcast.
'He didn't have a clue. So immediately I am thinking, "How have I forgotten to do that?" But I have taught him a million other things as well, and I've got to just remind myself, "It's all right, Melanie".
'I've been trying to get him to talk, to communicate, and to enjoy his life and accept his autism. I have just forgotten some of the practical stuff as well.'
While the TV presenter has accepted her son's autism – he was diagnosed aged two – Melanie confessed she still has some 'wobbles' with his diagnosis.
She added: 'I think I have got it all right, but all of a sudden I do have a wobble about it because I do worry about him.
'He really needs me. Sometimes I think I am doing really well, and sometimes I am just overwhelmed by it.
'Every now and again it will hit me and I will go, "Wow, he might never be independent of me". Which is fine. But I want him to have independence because that's how we grow.'
Melanie shares Tino, as he is affectionately called, with ex-husband Daniel Caltagirone. They also share 16-year-old son Roman.
The couple split in 2008, saying they had 'grown apart' but Mel says they 'share parenting completely'. She said: 'Our love for our children is greater than anything we feel about each other'.
A Freelance Writer and Content Editor, Jenni has been working on the women's lifestyle team at TI-Media on and off for over three years. She writes about your favourite celebrities and TV shows so you never miss an update. Jenni also writes beauty news and features - so for all of your skincare and make-up needs, drop her a line.