Miracle pregnancy for woman who suffered the menopause aged 11
Amanda Lewis appeared on Lorraine to reveal her exciting news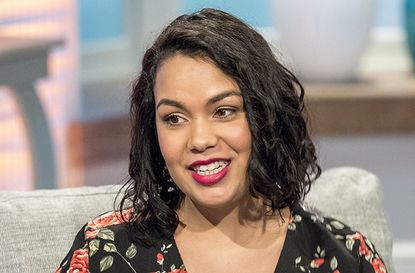 (Image credit: Ken McKay/ITV/REX/Shutterstock)
GoodTo newsletter
Sign up to the GoodTo Newsletter. You can unsubscribe at any time. For more information about how to do this, and how we hold your data, please see our privacy policy
Thank you for signing up to . You will receive a verification email shortly.
There was a problem. Please refresh the page and try again.
Mum-to-be Amanda Lewis appeared on Lorraine to reveal her exciting news after discovering she was pregnant, despite going through menopause when she was just 11.
She is the youngest person in the UK to have experienced the menopause when she was just 11-years-old. But sharing her exciting news on ITV's Lorraine, Amanda Lewis announced that she is now expecting her first child with boyfriend Tom.
Amanda revealed that after years of believing she would never be a mother, she is due to give birth in August thanks to a donor egg and IVF (In vitro fertilisation) treatment.
'We used Tom's sperm and a d (opens in new tab)onated egg with IVF (opens in new tab) - it worked on the first attempt. We were very lucky,' she told Lorraine.
Discussing the treatment, Amanda explained: 'I knew that I wanted to try (IVF) but I knew the odds of it working weren't very high.
'I had to take a lot of hormones in preparation because my uterus was very small so they had to get that big enough for IVF - it was only 2mm thick and it should have been 8-10mm. But we got it there in a month which they were quite shocked about.'
She added: 'I was very lucky that it worked first time. It was quite hard to believe it was real until about a month ago - I thought, "Just try and enjoy it now, don't be stressed out about it".'
Viewers were thrilled for Amanda, with one commenting: 'What a great outcome .Such a lovely young woman congratulations.'
Another said: 'How lovely is Amanda. So happy and positive. #BreathOfFreshAir'.
Recalling her initial visit to Lorraine in 2006 when she first revealed she was going through the menopause, Amanda said of her diagnoses: 'It was very difficult.
'The biggest thing was the weight gain and then my moods really dropped. I went from a size 8 to 18 in a couple of months'.
But while she is delighted to be expecting, Amanda revealed that once she gives birth, she'll 'pretty much go through the menopause again'.
She said: 'I'll have to get another bone scan to see what damage the pregnancy's done to my bone density and then go back on HRT (hormone replacement therapy)'.