Mother's emotional post about a carpet stain is an important reminder to parents not to sweat the small stuff
'I would have a million blue ink stains on my carpet if it meant I could have one more day with my son'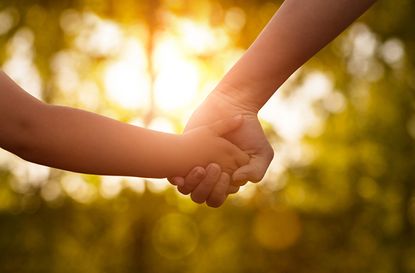 (Image credit: Getty Images/iStockphoto)
A mother's emotional Facebook post has gone viral after her heartbreaking message struck a chord with parents all over the globe.
Writing on her Facebook page, Love, Faith & Chaos, Heather Duckworth reminded mothers everywhere not to sweat the small stuff as she shared her story entitled The Blue Stain.
Sharing a picture of her four sons, Heather revealed she had been cleaning up some slime thanks to her daughter, when she was suddenly reminded of another time she was on her hands and knees scrubbing the carpet.
'All of a sudden I remembered another time in my life when I was cleaning up a big mess many years ago and the memories came flooding back,' she wrote.
Heather went on to describe the time her son Jacob got hold of a pen which exploded all over their brand new carpet.
'Tears of frustration stung my eyes,' she said of the incident. 'I was just so tired. And mad. Like really, really angry. I wasn't mad at my son — who was as blue as a Smurf — but upset with myself for leaving that pen out where my toddler could reach it. We had only lived in this house for six months and now the carpet was completely ruined.'
https://www.facebook.com/lovefaithchaos/photos/a.2062311417358335.1073741828.2060348454221298/2098180123771464/?type=3&theater
Despite strenuous scrubbing by her and her husband, Heather admits the blue stain still sits on their carpet to this day. But it no longer makes her feel angry.
She wrote: 'The next month, my sweet son, the one who splattered blue ink all over our carpet was diagnosed with cancer. Two years later, he passed away.
'My son was gone, but that blue ink stain? It was still there . . . and now . . . it was a constant reminder of my son. It was a constant reminder of my frustration over something so trivial . . . something so unimportant in the scheme of life.
'That blue stain was a constant reminder that life is messy, but that's what makes it worth living. A constant reminder to not sweat the small stuff. A constant reminder that "things" aren't important, but people are. A constant reminder that accidents happen. A constant reminder to let go of the little things and hang on tight to what is important,' she added.
https://www.facebook.com/lovefaithchaos/photos/a.2062311417358335.1073741828.2060348454221298/2087768711479272/?type=3&theater
Reminding parents everywhere that 'life is messy', Heather finished her post by writing: 'I would have a million blue ink stains on my carpet if it meant I could have one more day with my son.'
The touching post has been shared over 540 times on Facebook, and Heather was inundated with wonderful messages from fellow parents.
'Thanks for the reminder to not sweat the small stuff. I love reading what you have to say, wrote one person, while another added: 'Beautiful writing! Beautiful picture and an important message to all of us. Tears streaming…'
Words by Kirsty McCormack
Trusted, informative, and empathetic – GoodTo is the ultimate online destination for mums. Established in 2007, our 15-year-strong archive of content includes more than 18,000 articles, 1,500 how-to videos, and 7,000 recipes.