Mum blogger slams Gina Ford parenting guide and sets fire to the book
She said the advice led her to despair, 'rocking in a corner'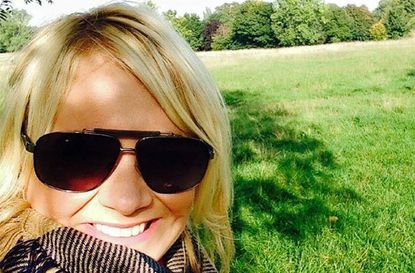 A mum blogger has spoken out against the strict views given in Gina Ford's parenting books and condemned the authors advice after it left her and her autistic son miserable.
Saffron Bentley who blogs at Bad Momma took to Facebook to slam Gina Ford's parenting books and reach out to other mums that may have been struggling to follow the advice in them.
Gina Ford has written nine books that cover childcare and parenting advice. She's renown as a parenting expert and has a background as a maternity nurse. Her method of 'crying it out' is famous for it's tough love approach, instructing new mums to let their children cry at night without taking them into their own beds for comfort, as supposedly soon the child will become bored and tired of trying to get attention and will settle.
For most new mums her books are a must-have, but for Saffron they did the opposite of helping her.
In her Facebook post Saffron said she found the advice in The Complete Sleep Guide by Gina Ford increasingly hard to follow when her then undiagnosed autistic son did not react positively to the advised action.
The mum-of-one shared her scathing review on that particular book calling Gina Ford 'a cow' and claiming it, 'makes Mein Kampf by Hitler seem like a little light reading'.
Speaking of her own personal struggle, Saffron relays how, 'my new born baby (and I) struggled with his hideous colic and undiagnosed autism, yet I continued to live by this women's guide until I was rocking in a corner and my son was hoarse from screaming'.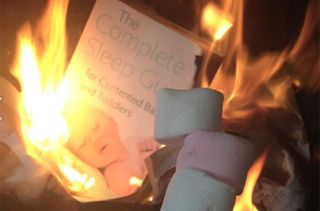 Continuing in her social media rant, Saffron points out, 'Ms. Ford suggests having sex soon after having your baby, even if you don't feel ready - you should just grin and bear it apparently. This is from a woman who has never given birth herself. That's correct, she was childless during her advice giving'.
The blogging mum revealed that she wants to reach out to other mums and spread the word that not every baby is the same, and therefore not all parenting advice will work for all mums.
'What I'm trying to say is, what might work for one parent will not work for another. DO NOT BEAT YOURSELF UP ABOUT THIS. Yes I am shouting.'
'DON'T COMPARE YOURSELF TO OTHERS EITHER (still shouting). Babies are different. Some will sleep, some will be content and happy. Some will be Lucifer re-born. Some will respond to a Gina Ford type regimes - some really won't. It depends on the type of mini person you've been given.'
Saffron finishes her Facebook post with how she would write her own parenting guide, simply instructing parents to, 'KEEP THEM CLEAN,KEEP THEM SAFE, KEEP THEM FED (and a touch watered, KEEP THEM AT A SUITABLE TEMPERATURE, LOVE THEM.'
https://www.facebook.com/babywipesandwine/photos/a.2125878390970839.1073741828.2125813914310620/2136022236623121/?type=3&theater
Her followers have applauded her straight talking ways, agreeing that not every child will react positively to parenting guide books.
One Facebook user commented, 'I actually followed Gina fords routine for my first baby as I didn't know what to do - it affected my bonding with him and is something I will never get back. No routine with my second and life was just easier and less stressful, even if it did take longer for him to sleep through the night'.
A new mum to be agreed, 'I'm pregnant with my first child and reading articles and books like this nearly gave me a mental breakdown 😞 so nice to see someone else react in this way!'
Have you used parenting guides whilst bringing up your little one? Have you found them helpful? Let us know in the comments below
Parenting advice, hot topics, best buys and family finance tips delivered straight to your inbox.
Trusted, informative, and empathetic – GoodTo is the ultimate online destination for mums. Established in 2007, our 15-year-strong archive of content includes more than 18,000 articles, 1,500 how-to videos, and 7,000 recipes.