Mum sparks heated debate after revealing she's considering renting a house in the catchment area of desirable school
Would you consider doing this?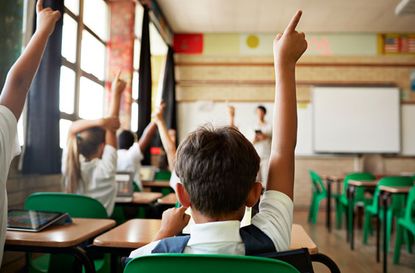 GoodTo newsletter
Sign up to the GoodTo Newsletter. You can unsubscribe at any time. For more information about how to do this, and how we hold your data, please see our privacy policy
Thank you for signing up to . You will receive a verification email shortly.
There was a problem. Please refresh the page and try again.
A mum has sparked heated debate after revealing she's considering renting a house in the catchment area of desirable school.
Writing on a parenting forum, the mum explained how she lives on the catchment boundary of a 'really good primary school', and is considering renting a property in the catchment to make sure her daughter can get into the school next year.
'I'm prepared to be told I'm unreasonable and potentially planning something illegal...', she wrote on Mumsnet.
'We live on the catchment boundary of a really good primary school and my DD is due to start reception in September 2019. We are currently looking at houses and hoping to move a couple of miles to get into the catchment completely but there's nothing on the market at the moment and we haven't sold our house. I'm aware the application process will start in autumn.
'Would it be unreasonable to rent a flat for a few months in the catchment area from September 18 and use the rental address on the application?'
She then goes on to explain that she's worried about continuing to live in her current house and the school finding out.
'The dodgy bit is that we would continue to live where we are now. My crazy thought is that we'd have a short term lease and if we still haven't sold/moved then stay in current house until something comes up...(so keep the rental for a few months only).
'I know this sounds crazy but we also have two younger kids who would be going to school a couple of years later. If we didn't get into this school, we would have to consider a fee paying school for the eldest as other schools locally aren't great. The big cost outlay now would be far cheaper than sending all three to private school.'
After explaining her situation, the mum asked fellow parents if her plan would be considered fraudulent and if anyone has done something similar.
The majority of users replied to the thread to say the mum would probably face consequences if she were to go ahead with the plan.
'Yes it's unreasonable. The consequences could be that your DC have their places withdrawn, leaving you without a school place possibly in the middle of the year', one said.
A second wrote: 'Moving Into rented accommodation is obviously fine, but paying rent simply for the address is fraudulent and could lead to you losing the place.'
A third also told her what she's doing is wrong: 'It's not crazy it's all kinds of bloody wrong. I hope you get caught out if you do it.'
Putting an address in school applications that's not your normal place of residence is a breach of the rules, which could ultimately rescind the application.
What do you think of the mum's idea? Have you heard of people doing this? Let us know your thoughts in the comments section below!