Mum-of-three defends decision to breastfeed her baby whilst having sex with her husband
'Spiritual Tasha Mama' makes a living through her controversial nursing videos on YouTube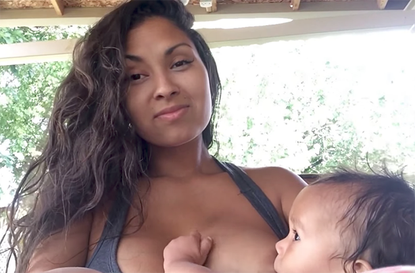 A mother has defended a video which she posted where she revealed that she breastfed (opens in new tab) her children whilst having sex (opens in new tab) with of now-ex husband.
Vlogger Tasha Maile, a mother of three from San Diego, has made a name for herself by posting candid videos whilst breastfeeding and giving insights into her personal and spiritual experience of motherhood.
But the initial video, posted in September 2015, gained attention for all the wrong reasons, after she claimed that she would have sex 'from behind or something' whilst her baby was attached to her.
http://www.youtube.com/watch?v=OIqdrTnFV8A
At the time, there were some arguments from both sides of the controversial topic.
One said: 'Thank you for being very open and spiritual. I have a curious mind but never thought about breastfeeding during sex. it sounds crazy but if you're comfortable why not. Like you say, nudity is natural.'
But another said: 'How can you be turned on when your child is nursing...?! I agree with her that sex is important and natural but come on not while you are feeding your baby! Wait a few minutes!'
Mother to sons Love, Soul and Josiah, Tasha recently posted a second video, in which she explains she is still facing backlash from the first one.
http://www.youtube.com/watch?v=iCok6IqRf7k
Appearing on camera in a pink vest top, this time with youngest son attached to her breast, Tasha said: 'First of all, if you actually listen to the video it's talking about how my three-month-old would not allow me to put him down, at all, so he was attached to me 24/7 and he was also using me as a binky at night.'
'So we did 'it' whilst he was sleeping next to me or on me. It had nothing to do with my child; my child was not in the act of what we were doing. He was not involved in it.'
'So, get your panties out of a bunch, all you people judging me - which is only judging yourself. We've had enough guilt and shame put onto our beliefs, and it's time to get rid of that and see it for what it is.'
'Sex is a beautiful thing, and I think we can all agree with that.'
Her loyal followers rushed to her support, with one writing: 'Tasha we love you forever and think your doing great at what your doing and being the best mom that you can be:) don't worry about any negativity or haters, and keep these videos coming.'