Mum films herself giving birth next to playground in her garden
The mum has never given birth in hospital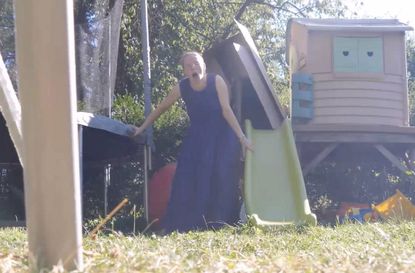 A mum in France has filmed herself giving birth in her garden, without any assistance or pain relief.
Graphic warning: this article contains a video of a woman giving birth
Sarah Schmid, who's originally from Germany but lives in France, welcomed her sixth child in the garden by herself and filmed the experience, which she then shared YouTube.
The footage has since been seen by over 800,000 people, and now the 36-year-old explained why she decided to adopt 'free birthing' - also known as unassisted child birth.
Sarah was trained to be a doctor, and when she started to practice, she didn't think giving birth in hospital was relaxing, which is why she decided to give birth to all her children outside of hospital.
'I studied medicine to become a doctor, although now I am a full-time mum. There I watched people giving birth in hospital and I thought, "I can't do this. It isn't relaxing." It made me realise I wanted to give birth without intervention', she told The Sun.
https://youtu.be/x6k3rNrpcMU
She had her first baby at home with the help of a midwife, in 2006, but has since not used medical assistance or pain relief.
'I didn't like having a midwife and the birth was long and painful – I was in labour for 15 hours. So I did a lot of reading about birth myself. I tried to learn everything about birth I thought I should know.'
She even gave birth to one of her babies alone in a Swedish forest. Speaking about the experience, she said: 'I can relax best outside. I can look up to the sky, feel grass under my feet and focus.
'I found it stressful in hospital. I found the forest very relaxing, so I thought it was the best place for me to have my baby. My waters broke around 11pm and I walked to the forest at 1.30am and he was born around 3.30am.'
The mum-of-six, who's married to Tim, 41, says she didn't mind her husband not being there when she gave birth in the forest.
'I didn't mind Tim not being there. I knew he had fears about the birth – especially because it was unassisted. But I felt I had to deal with my own fears first.
'I did not want to be overwhelmed with fear. He came afterwards. I called him when the baby was born.'
Mariana is a lifestyle writer who has written for Goodto.com and My Imperfect Life. She joined the Goodto.com team as an intern after completing her journalism MA at City University. After six months spent writing about food, celebrity news, and family trends, Mariana left to write for Healthy Food magazine - but returned in 2017, to join the Future team once again. In her spare time, you'll find Mariana in the kitchen cooking for her friends.