This mum's honest post about calling her kids 'assholes' is SO relatable
'That makes her an asshole. Don't shame me.'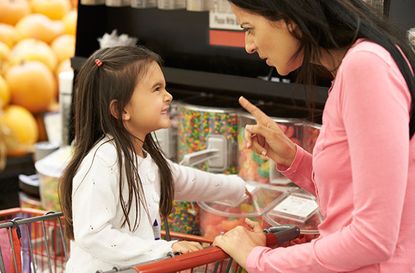 A mum's honest post about calling her kids 'assholes' has gone viral and received praise from many other parents for how relatable it is.
Malieky Roman, a mum from New York, took to Twitter to write the honest post after her daughter poured juice on the floor - on purpose.
The mum wrote: 'Look, we gotta stop acting like it's a bad thing to call our kids assholes.
'Like my daughter just dead ass death glared me while pouring her juice on the floor after I said not too. Come on. That makes her an asshole. Don't shame me.'
The confession resonated with many parents, who confessed they've also had similar situations where their kids acted like 'jerks'.
One mum commented: 'I tell my 4 kids when they're being 'Jerks'. They got all upset and my SO tried to tell me it is mean to "name call" but kids are not going to get better if we pretend they're always perfect angels. It isn't name calling to describe behaviour. Don't like it? Stop being jerks.'
Malieky responded: Haha that's very true! My husband and mom get upset too and I'm like look. I made them I can say whatever I want 😂.'
Another mum added: 'My 5yo looked at me dead in the eyes after getting out of bed (after his bedtime) and GRABBED A HANDFUL OF CAKE then just walked away. He's lucky he has tiny hands. I was so mad but I burst out laughing. My kid is an asshole sometimes.'
While someone else added that their children aren't the best at giving compliments: 'Agreed. My 5 year old told me I look tired and pointed to my eyebags to clarify her point'.
What do you think? Is it acceptable to call your children assholes when they're acting up? Let us know in the comments!
Trusted, informative, and empathetic – GoodTo is the ultimate online destination for mums. Established in 2007, our 15-year-strong archive of content includes more than 18,000 articles, 1,500 how-to videos, and 7,000 recipes.