'It felt like a kick in the teeth' Mum-of-two diagnosed with dementia aged just 39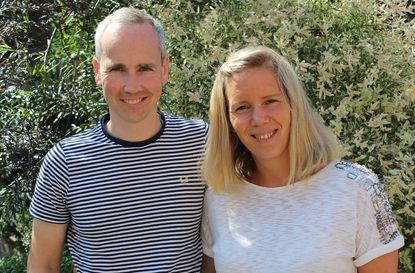 (Image credit: Alzheimer's Society)
Sarah Park, from Greater Manchester, has opened up about being diagnosed with dementia aged just 39.
The mum-of-two was diagnosed with the condition after doctors repeatedly mistook dementia symptoms for depression.
It all started when she noticed she was making uncharacteristic mistakes at her job as a senior cardiac physiologist for the NHS: 'I thought I could work my way through it by doubling the effort and that worked for 12 months, so I kept plodding on - but then there was another mistake,' Sarah said, before revealing she decided to quit.
'It was nothing major and it got picked up so no patient was ever at risk but I noticed mistakes and I just could not remember why I had made them. It was horrible and that's why I said to Richard – I can't do it anymore.
'It wasn't worth it. It was just one mistake but it can make all the difference to someone's health. It's sad because I loved my job but the dementia was a bit of a problem – although I didn't know it was dementia at the time - so I had to call it quits.'
Sarah's husband Richard was also noticing worrying symptoms around the house: 'It's probably going back further than I realise - repeating stories on social occasions like a family barbeque which I put down to a couple of glasses of Prosecco. But then I noticed things at home a bit more – like putting cups in the wrong cupboard or mixing up the kids' washing and there was the work situation.'
https://www.facebook.com/alzheimerssocietyuk/photos/a.137638944646.108007.8270524646/10156434482864647/?type=3&theater
While trying to seek diagnosis, Sarah said doctors kept telling her she was suffering with the symptoms because of work.
'They said I had depression and they focused on the work thing – "it's because of work, it's because of work", they kept saying,' Sarah said.
Initial scans and a normal cognitive test didn't provide any answers but as Sarah's dad died of Alzheimer's at the age of 40 and her grandmother also developed dementia, the couple decided to seek a second opinion at Cerebral Function Unit in Salford, where Sarah was diagnosed with Alzheimer's.
'I was gutted; it felt like a kick in the teeth. But it was also a relief that we finally knew what was going on', Sarah said.
However, the family are trying to stay positive: 'We're not the type of people who will sit around feeling sorry for ourselves and we don't want anyone else to do that', Richard said.
'We came back in the afternoon so the kids were away at school, sat down on the couch, had a hug, had a cry but dusted ourselves off and by the time the kids came back from school we were fine.
'I took the kids to one side separately and told them about the diagnosis and how they would just have to support Sarah every step of the way. And that's what we've been doing – but we've still got to crack the whip and ask them to do stuff like tidy their rooms.'
1 million people are set to develop dementia by 2021
Sarah, her husband Richard and their two kids, 14-year-old George, and 12-year-old Emily, are now adjusting to life after the diagnosis but the mum plans to live a life as normal as possible.
'I'm enjoying life on a day-by-day basis and with the summer we're having it's been amazing. There's no point looking too far ahead - you're planning and suddenly their childhood has gone. It doesn't take long.
'I miss work because I'm a caring sort of person, and I love a good chat - I'll be volunteering at the local hospice because I've got plenty to give my community.
'I don't see my dementia diagnosis as the end of the world. I was devastated to start with but I've kind of got over that now. There's plenty more left of me yet. I'm 39 years young.'
She's now fundraising for Alzheimer's Society to help researchers find a cure for the condition and will take part in their Memory Walk fundraising event in September.
Dementia is the UK's biggest killer – someone develops dementia every three minutes, with 1 million set to develop the condition by 2021. If you want to donate, please visit Sarah's page at https://www.justgiving.com/fundraising/team-sparky
Mariana is a lifestyle writer who has written for Goodto.com and My Imperfect Life. She joined the Goodto.com team as an intern after completing her journalism MA at City University. After six months spent writing about food, celebrity news, and family trends, Mariana left to write for Healthy Food magazine - but returned in 2017, to join the Future team once again. In her spare time, you'll find Mariana in the kitchen cooking for her friends.