Mum opens up on 'grief, pity, disappointment and pain' of suffering three consecutive miscarriages
'I feel like some people think because you lose a baby so early that there is no attachment.'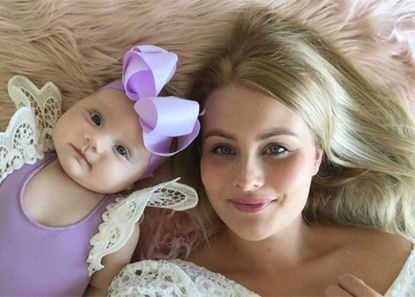 An Australian mum-of-one has opened up about the pain of having three consecutive miscarriages, describing the 'humiliating' and 'scary' reality of fearing that she wouldn't be able to have children.
Tahlia Aubusson, a professional singer from Australia, has taken to her blog to write an honest and touching post on suffering three tragic miscarriages.
Since losing her third child, Tahlia has welcomed a baby girl named Ambria - who she gave birth to on 29th October 2015, and is now a healthy toddler.
Tahlia decided to open up about her miscarriages on her blog to shed light on the emotional pain that mothers go through when they miscarry. She explained that in the past she has felt 'embarrassed' of her 'ongoing sadness' because her baby didn't carry until full term.
'When you have had a miscarriage or worse, multiple miscarriages you have so many emotions all at the one time.
'I feel like some people think because you lose a baby so early that there is no attachment.
'You almost feel embarrassed to feel ongoing sadness, like it's not worthy of such heartache but I am telling you it is and no one can decide that for you, other than you.'
The singer described how isolating it can be to deal with so many different emotions, feeling that no one truly understands what you're going through.
'You have pregnancy hormones that you are trying to deal with shock, grief, disbelief, pity, disappointment, pain, confusion and sadness... that's ALOT to deal with, especially on your own.
'I know that I felt no one understood how I was feeling and unless it had happened to them how could they? After my first miscarriage the first thing I said to myself was 'What is wrong with me'.'
Tahlia especially felt a sense of isolation from her husband, who couldn't understand her experience from a physical point of view.
'He wasn't carrying the baby, he didn't have crazy hormones and he didn't have to go through the awful process of the physical and mental changes a body goes through when falling pregnant, then having a miscarriage then going back to a normal state 3 times over, a total roller coaster.'
Miscarriage is a heartbreaking experience for any woman, but for Tahlia, suffering three in a row was a blow she found difficult to come back from, despite trying to remain as positive as she could.
'The first time it happened I remember being more in shock rather than sad, I was hopeful and I was sure that it was just a 'one off' unfortunate situation and that in the future I would be okay.
'The second time I had alarm bells and the worry came hard and fast 'What if I could never have a baby?' After the first time I realised how much I wanted to be a mum... I was scared.
'The third time was totally devastating, I was so drained of all emotional spirit. I'd had tonnes of internal and external ultrasounds, blood tests, I was taking vitamins, eating healthy doing all that I thought I could.'
Tahlia bravely described the moment she realised she had lost her third child, whilst having an ultrasound at the hospital.
'Having to hear the words 'There is no heart beat' during yet another vaginal ultrasound was humiliating and gut wrenching.
'My legs were shaking, I felt sick and cold and was left in the room to 'clean up'. I wiped away the gel and blood and I felt empty, I just cried and cried.'
As she ended her post, Tahlia reminded other women it's 'ok to grieve' and admitted that writing about her experience helped her get closure.
'It's ok to feel however you want to feel, there is no right or wrong way and no time limit, it's ok to grieve, it's ok to seek a second opinion, it's ok to ask questions but don't lose hope, because even if everything else fails you can still have hope.
'I really hope you can take comfort in this post or even if you're not in this situation at least a better understanding of what it's like for women who endure this.
'I am glad I finally had the courage to write this, it actually probably gave me a little bit of closure that I probably didn't realise I needed.'
Trusted, informative, and empathetic – GoodTo is the ultimate online destination for mums. Established in 2007, our 15-year-strong archive of content includes more than 18,000 articles, 1,500 how-to videos, and 7,000 recipes.