'The floodgates open and they cannot be shut' Mum's hilariously honest post about her post-birth pelvic floor
But it seems the Young Mummy blogger isn't alone!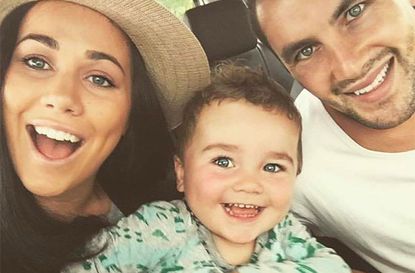 A mummy blogger has made a hilarious confession about the state of her '4-month-postpartum pelvic floor' after wetting herself while stuck in a traffic jam.
Sophie Cachia, also known as mum blogger Young Mummy, took to Facebook to share an intimate and comical post about an issue lots of mums can empathise with - a weakened postpartum pelvic floor and the disastrous effects this can have.
The mum-of-one started her post like any other, talking about her 'beautiful baby girl' and 'devoted husband'.
'Happy Tuesday! This here is a picture of a beautiful baby girl, a devoted father & husband...'
But just a sentence in, and Sophie's post took a slightly unexpected turn as she revealed that she had 'pissed her pants' after being stuck in her car in a traffic jam.
https://www.facebook.com/theyoungmummy/photos/a.1554243521466375.1073741828.1553166498240744/1870474256509965/?type=3&theater
'...and a wife who just called that devoted husband to come out the front to her rescue with two towels because she totally pissed her pants in her car. Yep. That's right.'
The popular blogger explained how a mix of drinking lots of water, a weakened pelvic floor after recently giving birth and 'stand still traffic' had caused her to have the accident.
'A full bottle of water, a 4-month-postpartum pelvic floor, and a freeway standstill with traffic is NEVER a good combo.'
Unfortunately for Sophie, it wasn't what could be called a small accident either, as she revealed, 'And not just a dribble. Nope. It appears when you're so desperately holding on and you finally crack, the floodgates open and they cannot be shut. I truly never though this would happen to me. But hey, there's a first for everything... right?'
https://www.facebook.com/theyoungmummy/photos/a.1553167554907305.1073741825.1553166498240744/1690819471142112/?type=1&theater
The honest account has gained huge support from mums all over the world, having been liked over 8.5k times with hundreds of comments.
One Facebook user thanked Sophie for shining a light on the embarrassing side effects mums can suffer from, but often go unspoken about.
'High five to you Jaryd for coming to the rescue...massive shout out to you Sophie for talking about the shit that happened/happens to all of us, yet no one talks about it.'
Another social media user reminded Sophie she isn't alone saying, 'Oh dear! At least you know you're not alone in this. I see ladies all day in a similar position to you. I love your honesty and frankness with all your new mum challenges. Much to be admired I think.'
Another agreed, saying 'Yep I had this happen a couple of weeks after giving birth - except i had been holding on during a breastfeed, thought i could make it to putting the kettle on before dashing to the toilet, but no... peed a full bladder all over the kitchen floor the moment i turned on the kitchen tap.'
Trusted, informative, and empathetic – GoodTo is the ultimate online destination for mums. Established in 2007, our 15-year-strong archive of content includes more than 18,000 articles, 1,500 how-to videos, and 7,000 recipes.