Mum shares heartbreaking warning about baby blankets after the death of her son
'You never think it will happen to you. You never think it will be your baby'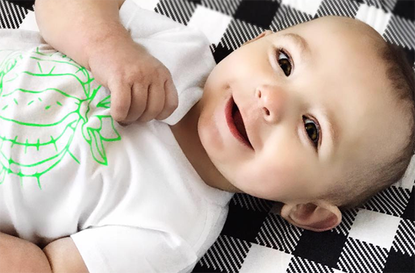 A mum of two has taken to Facebook to mourn the loss of her baby son Sloan, who died in a freak accident with a baby blanket in his cot.
Jordan DeRosier initially did not publicly share details of her son's death, but felt forced to speak out after receiving comments from critics suggesting that his death was caused by vaccinations.
Initially posting a sweet tribute to her baby at the end of June, where she called him a 'rainbow warrior', and lamented: 'you were not able to live out our dreams for you, yet our dreams are where we will find you forever', Jordan was inundated with messages from well-wishers and sympathisers.
Yet amongst the messages of solidarity and support, there were some who jumped to the conclusion that the death had been the cause of vaccinations, which are a controversial subject in America.
https://www.facebook.com/photo.php?fbid=1389244254501693&set=a.500389123387215.1073741830.100002483967247&type=3&theater
Jordan felt compelled to dismiss the accusations, writing another impassioned post where she pleaded with the commenters to stop.
'To those who keep commenting and messaging trying to blame vaccines for our sons death - stop,' she said. 'Initially I had not wanted to explain the detailed circumstances of his death because of my guilt and the fear of condemnation from others. But I will not allow anyone to try and place blame where it does not belong.'
Describing the details of the heartbreaking incident, she said: 'He was last laid down to bed with this blanket made by his great-great grandmother, and one other blanket, a grey one he had been attached to since birth.'
'They took the grey one he had been found with his head in.'
'He had pulled it through the crib rails somehow and gotten himself stuck in it. He was 7 months old, I thought because he was crawling, standing on his own, and climbing, that he would be fine with a blanket.'
https://www.facebook.com/photo.php?fbid=1188161581276629&set=a.500389123387215.1073741830.100002483967247&type=3&theater
After explaining the circumstances of her own loss, Jordan issued a warning as a stark reminder to other parents to stay vigilant with their own children.
'Please do not put your babies to bed with a blanket,' she implored. 'This is the face of immense, unfathomable grief, the face of longing, of heartbreak, of self inflicted GUILT. I will NEVER stop feeling responsible. I will relive this for the rest of my life knowing EXACTLY what I could have done differently. Please learn from my world shattering mistake.'
The post has been shared nearly 10,000 times and thousands more have commented, offering love, guidance and support.
'So sorry. Forgive yourself so you can heal,' one advised. 'You're not a bad mother, God has a reason for taking him. For now you are doing good by warning others not to make that choice. Hugs and peace.'
'So very sorry for your horrific loss,' another agreed. 'There is no greater grief than the loss of a child. I know. My prayers are with you and your family.'