Mum shares honest snap of her uneven 'milk jugs' during breastfeeding
She's been praised on Instagram for opening up about the rarely discussed side effect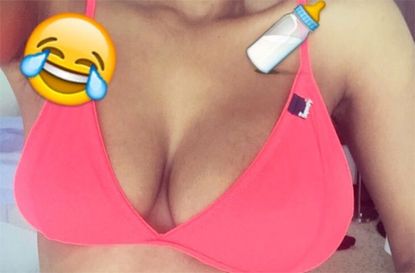 A mum has gained praise on social media after posting a honest shot of her 'uneven' boobs during breastfeeding.
Zoe Hendrix gave birth to daughter Harper Rose last November, after meeting father, Alex, on Australia's version of Married at First Sight. Her time on the TV show has gained her nearly 100k followers on Instagram, and thousands have taken to the comments to applaud her for raising this unspoken side effect of breastfeeding.
In the snap she's wearing a bright pink bikini top, and is sporting noticeably lopsided bosoms. She's captioned the image, 'MILK JUGS gone uneven 😮😂 One of the many joys of breastfeeding. I wondered why I got a few stares at the pool that day😂 🙈awkward! #mymilkshake #bringsallthebabiestotheyard #normalisebreastfeeding'.
Lots of women were tickled by the post, with many commenting that they had had similar experiences.
'Haha mine were like this before falling pregnant, and now breastfeeding they are worse,' said one, whilst another joked: 'Now I've finished breastfeeding mine are like little wind socks flapping in the breeze!'
'In the same boat right now!! Left side could feed all the kids on the street, good luck to us after we finish feeding. Love how you share the REAL side of motherhood,' said a third.
'I love how real your posts are,' applauded another. 'Babies always have a favourite side. I remember when I eventually stopped breast feeding. The smaller went back to an a cup whilst the popular side engorged to a DD. what the hell. Definitely not a good look lol.'
Uneven or misshapen breasts are normal during and after breastfeeding, and usually they will even out once they stop producing milk.
According to health advice website WebMD: 'Each breast after breastfeeding is independent. So what happens to one breast during breastfeeding won't necessarily happen to the other. Breast engorgement while breastfeeding, for instance, which is caused by congested blood vessels in the breast, is common while breastfeeding. Once it's resolved, it may leave one breast slightly misshapen.'
'It's possible for one breast to return to its pre-pregnancy size after breastfeeding while the other stays larger, or droops, or flattens more. Some women end up with one breast a full cup size smaller or larger than the other after breastfeeding and simply learn to love the body that nourished their babies - no matter what its shape.'