'It's sickening' Mum slammed for videos of herself breastfeeding her three-year-old daughter
'This is not wanting your child to grow up'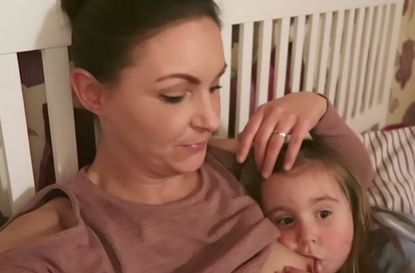 A mum has been slammed for breastfeeding (opens in new tab) her three-year-old after she posted videos of the moment on YouTube.
Leanne Allerton, a mummy vlogger, regularly posts videos on YouTube about breastfeeding and parenting issues in general - but a clip she posted back in May has caused quite the stir, as many people weren't happy to see the mum breastfeeding her daughter.
In the video, published on her channel Umbumgo Family Vlogs, the mum says her daughter Poppy, who's going to be four in November, tries to grab any opportunity get 'titu time', as she calls it, but adds that she only breastfeeds her at bedtime.
'She likes to grab any opportunity to have titu time during the day when I'm sat down', Leanne says. 'But I make it pretty clear to her when she wants to be fed during the day that bedtime is the time we have it so it's clearly a comfort thing for her.'
The mum-of-four also revealed she's been breastfeeding for about eight years, and that she lets her children breastfeed until they ask not to.
'I just want to follow their lead and when it's time to stop they'll let me know', she explains.
http://www.youtube.com/watch?v=xP0xdIkHpaw&list=PL283oKOKn5uByMxCyyeOmUPP28rvgN_fk
The candid film has attracted many comments from people who think Polly, who starts school in September, is too old to be breastfed.
One said: 'Mom should find another way to bond if I read this right - she needs to accept she's a child and not a baby - and let her be a kid.'
'I just feel like after a certain age you need to encourage them to drink on their own because when they start remembering things, they carry it on and it affects their mental state in a negative way, nutrients or not,' a second agreed. 'Especially for baby boys. '
A third wrote: 'How do you expect your child to grow and prosper socially when they are still relying on your boobs for sustenance?'
A fourth also criticised the mum, saying she's making her daughter be more dependent rather than self-sufficient: 'It most certainly is for the mum feeling she is a better mum when she 'sacrifices' herself in this way. It's a pity because the child is being taught total dependency rather than to independently soothe and feel self-sufficient.'
Another user took it one step further, saying the video was 'sickening': 'This isn't natural. This is not wanting your child to grow up. It's not necessary. It's sickening honestly.'
However, not everyone was against Leanne, with some people even relating to her experience of breastfeeding.
'It takes a lot of dedication to breastfeed so long. Ive hit 6 years of continuous years and I'm Pregnant with my 3rd at the moment so Ive got a long way to go still. I allow my kids to self wean and it works for them and me', one wrote.
Speaking about the reaction to her video, Leanne said she was shocked when it went viral.
'I post breastfeeding videos when I feel like talking about things because there will always be someone out there who is going through the same thing', she said.
'You get a lot of nice suggestions but also a lot of abuse - those I tend to block and delete. But I'm shocked by how many views it has had.'
How old do you think it's too old to be breastfed? Let us know in the comments!