Mum sparks debate after leaving children aged 7 and 9 in the car alone during shopping trip
Woman sparks debate after leaving her children alone in the car.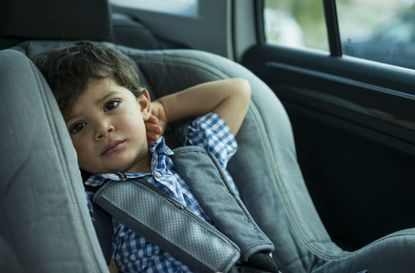 A mother has divided opinion after asking fellow parents what age is appropriate to leave children alone in the car.
The woman took to parenting forum Mumsnet to get some advice, and was met with very different opinions.
Starting the debate, she wrote: 'Today I left my 9 and 7 year old in the car alone for about 15 mins. Windows down, in the shade and mild day. Is this really irresponsible? Car wasn't hot at all on my return, yet some people think I'm stupid for doing this.
'What age would you leave your children alone for a short amount of time?' she added.
Many were shocked at the question and couldn't believe the woman had left two children under the age of 10 in the car.
'I wouldn't! Windows down is OK because they get fresh air, but NOT OK in case either they open the door and wander off, or some pervert comes by and takes them! He could persuade them to open the car door, or simply force the window open,' one person responded.
Another user wrote: 'At 9 and 7 definitely not. Chances of abduction would be almost zero but I would be worried about what they would get up to, if they needed the loo or if I had an accident and wasn't able to tell anyone they were in the car.'
Others worried that it wasn't the temperature of the car that should be a concern, but that the 'handbrake/controls/doors' can easily be fiddled with. However, some mothers argued that it depends on how mature the child is.
'I think a lot depends on how sensible they are,' one person wrote, while another added: 'at 7 it would depend on the maturity of the child and how well you know they would not fiddle with stuff they are told not to.'
When it comes to the law, there is no specific age outlined that determines when a parent can leave their child alone in a car but it is illegal to leave a child alone if it places them at risk.
Gov.uk advises that parents judge whether they think their children are mature enough to be left unsupervised, but the NSPCC believes children under the age of 12 are generally not mature enough to be left alone for long periods of time.
In the UK there are also no specific laws governing at what age you can leave your kids at home alone.
However, under the Children and Young Persons Act 1933, parents in England and Wales can be prosecuted for wilful neglect if they leave a child unsupervised 'in a manner likely to cause unnecessary suffering or injury to health'.
Words by Kirsty McCormack.
Trusted, informative, and empathetic – GoodTo is the ultimate online destination for mums. Established in 2007, our 15-year-strong archive of content includes more than 18,000 articles, 1,500 how-to videos, and 7,000 recipes.