Mum's syringe trick for unblocking daughter's nose divides opinion on social media
But is it actually safe?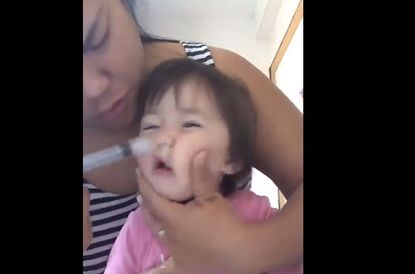 A mum who filmed the syringe trick she uses to unblock her daughter's nose has divided opinion on social media.
Having your little one with a blocked nose can be very worrying for parents, especially when it makes breathing hard for them.
There's a lot of tricks for parents who want to unblock their children's noses, but one mum has divided opinion with her unusual method.
The woman, who uses a syringe full of salt water, inserts it on her daughter's nose to unblock it, which seems to instantly works in the video.
https://www.facebook.com/anedia.amazing/videos/1850556458305100/
The post, which has been shared over 54,000 times for far and had over 17 million views, seem to divide opinion as some weren't sure it was safe.
One parent commented: 'I actually cured my son's sinus infection doing this on a long road trip ! It is the best thing you can do for your kids and your self as well!'
Some experts also agreed that the method works and can be used by parents: 'As a respiratory therapist, this is the bomb!
'Although most kids may not be so cooperative and may require some sort of containment system.'
Others were also commenting to say they will be giving the trick a try when their children are struggling with a blocked nose.
However, some who claimed to be health professionals advised against the practice, saying it could actually lead to pneumonia or secondary drowning.
'This is not a safe practice. It can lead to choking and aspiration which could result in a pneumonia. But what do I know. I'm only a children's nurse,' one wrote.
Another commented: 'Looks good and eases child BUT errrrm Dry or secondary drowning springs to mind. I wouldn't do it too risky'.
A third said: 'Unless the child is old enough to know how to breath out of its mouth while your doing this then I would say that child is too young to safety do it, but frankly I'd speak to my doctor or pharmacist before doing that to my child.'
Dr Dan Robertson, a North Yorkshire-based GP and Medical Officer at online video consultation service Push Doctor, said the practice seen on the video is called 'nasal douching'.
Even though it's a common way to treat nose conditions in adults, he wouldn't recommend the mum's approach as it could cause nosebleeds and even choking.
Speaking to GoodtoKnow, he said: 'Nasal douching is a common way of treating various conditions of the nose and sinuses, and is often recommended to adults for the treatment of sinus infections and allergies.
'There are various kits available for use in children over the age of 4 to help moisten the nasal passages and cleanse them with the aid of nasal aspirators. In younger children, saline drops are available and can be used similarly.
'However, I would certainly not recommend this person's technique for washing a child's nasal passages.
'Firstly, Mum looks to be using sterile water, which would likely sting. Secondly, doing this will remove not only the mucus from the nose, but also the bacteria required to keep the nasal passages healthy.
'On top of this, Mum is obviously using considerable force, which increases the risk of nosebleeds. It could even result in water being forced down the back of the throat, which could cause the baby to inhale and choke on the mix of water and sputum.'
Responding to the claims of secondary drowning some users suggested it could cause on the comments on Facebook, Dr Robertson said it would be unlikely.
'Secondary drowning is unlikely given the volume of liquid involved, and you would hope that Mum would stop after just one episode of choking or coughing, as this would suggest water has entered the lungs.'
'I would always recommend discussing use of any nasal treatment with a healthcare professional in the first instance, as it may not be suitable for your child and could cause more harm than good.'
Parenting advice, hot topics, best buys and family finance tips delivered straight to your inbox.
Trusted, informative, and empathetic – GoodTo is the ultimate online destination for mums. Established in 2007, our 15-year-strong archive of content includes more than 18,000 articles, 1,500 how-to videos, and 7,000 recipes.