'It's excruciating to watch' Mum opens up about her fears that she's passed her anxiety on to her child
Blogger Emily Schuman has opened up about her fears that she has passed her anxiety on to her daughter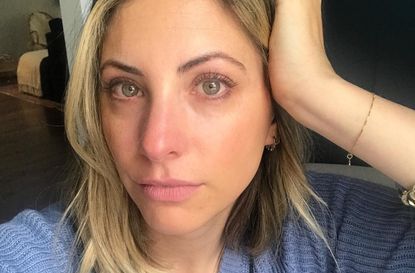 Blogger Emily Shuman has revealed her battle with anxiety and spoken about the fear of passing it on to her daughter.
In an emotional Instagram post that shows Emily's teary eyes, the blogger opened up about her battle with anxiety.
Starting the caption, Emily writes: 'This whole showing-vulnerability-thing-on-social-media is new for me. For years I assumed nobody wanted to see the real stuff I was struggling with, which is why I mainly stuck to the pretty, curated moments. But here's the thing.
'Opening up not only feels cathartic (albeit a bit intimidating) - it's also an opportunity for deeper discussions that remind us we're not alone. Yesterday Sloan found out she'll be getting new teachers soon and she's devastated, which is excruciating to watch as a parent.'
Emily continued: 'I've been feeling a lot of guilt about the anxiety she's inherited from me, and after sharing that on Stories this morning (and receiving so much wonderful advice from other women), I've already shifted my perspective. Anxiety is not fun, but it's also a trait that goes hand-in-hand with other attributes that are some of my favourite qualities in both Sloan and myself.'
In the post, Emily also said she was ready for a challenge and looking forward to coping with her anxiety in a more constructive way, which would also help her daughter.
She finished the post by saying: 'So here's to leaning into the uncomfortable instead of fighting it, giving my daughter the tools to best cope with her fears, and strong, waterproof mascara. Happy Wednesday! x.'
Emily posted a similar message on her Instagram feed at the end of last month, when she described how she is her own biggest critic and how overwhelming motherhood had become.
She wrote: 'Let this serve as a reminder, to anyone who's ever looked through my feed and thought I have everything figured out, that I don't. I've been so overwhelmed the last few days - trying to balance working from home while taking care of Sloan (we both have lingering coughs) and feeling like I'm not doing anything well.
'At times like these, I find my inner critic is its most severe - harsh and unforgiving. I hope that by acknowledging it, it's the first step towards one day treating myself with kindness, instead of hostility, in moments of weakness.'
On both occasions Emily's followers were quick to offer reassurance and thank the mum-of-one for her honesty.
One wrote: 'Now these are your best posts. Hands down. They are the most brave and meaningful because they are honest. Bravo! Good work. And also, you are a great woman and mother. Never forget that.'
Another added: 'Beautifully said, and thanks for sharing. Seeing and sharing in truth is always so much more rewarding. Thinking of you both!'
Jessica currently works as a Senior Food Writer at Future. She writes food and drink-related news stories and features, curates product pages, tests, and reviews equipment, and also develops recipes that she styles on food shoots. An enthusiastic, self-taught cook Jess adores eating out and sharing great food and drink with friends and family. She has completed the Level 1 Associate course at the Academy of Cheese and is continually building on her knowledge of beers, wines, and spirits.