Mums left divided over weddings that exclude children from the guest-list
What do you think?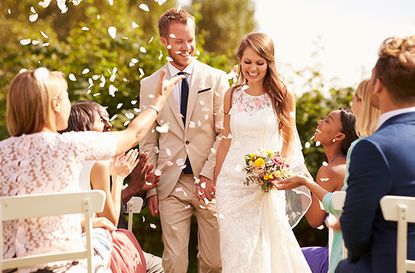 A mum has sparked a debate among parents by revealing that she thinks it's acceptable for couples to leave guests' children off their wedding invite list.
She voiced her thoughts on the matter on parenting forum Mumsnet and encouraged other users to share their opinions.
'Going to a family wedding in June - the couple aren't inviting kids apart from their own 2 and have made that clear. It's for financial reasons and they are keeping the wedding small to 50 people,' she said.
'Found out that some relatives are offended by this because their kids aren't invited and were off with the groom about it.'
The user goes on to state that she can't quite understand why such a decision would offend some people.
'Aibu to think WTF is wrong with people. I have been to plenty of weddings where my kids were not invited - I totally get why that would be the case and I am not remotely offended by it,' she continued.
'I am just happy to be invited and am looking forward to a child-free day sipping champagne and celebrating with the couple.'
A number of users were quick to point out that they are in agreement with her.
'If I was the groom and someone came to me "offended" I'd shut them down and say "well, sorry you can't make it but that means we can ask X and Y to come instead of you" and walk away or hang up,' said one.
Another added: 'It's up to the bride and groom and if they don't want kids there then no one should get offended or take it personally. Either go and enjoy yourselves or don't go and send a nice message.'
The Duchess of Cambridge took charge of her two children, Prince George and Princess Charlotte, as well as others at the wedding of her sister Pippa last summer
Others, however, took the time to consider the flip-side of the argument by suggesting that it's not always suitable for parents to leave youngsters in the care of others.
'I think lots of people don't realise childcare is an issue. They either have lots of it or no children themselves. There is no circumstance where I can leave DD all weekend, just can't happen just now,' they mused.
'I had a uni friend who was FURIOUS that a friend turned up with a 2 week old BF baby - "couldn't they have left it with someone". Baby was zero problem as well. It was admiral they had even made it as they lived several hours away. Strangely when she had her own children she had issues leaving them.'
A second user of the site admitted to getting particularly riled up by the wording used on the invites for child-free weddings.
'I especially hate the phrase on the invitations "we hope you enjoy the opportunity to leave the kids behind and let your hair down",' they quipped.
'Unless you're organising childcare at the venue for your guests then don't act like you're doing me a favour when you're actually just trying to save money by not inviting children.'
What do you think? Would you embrace the opportunity to attend a wedding without your kids in tow, or do you agree that child-free nuptials put parents in a tricky position? Let us know your thoughts in the comments below!