'I thought my waters had broken but I was bleeding' Mum of twins shares her traumatic birth story
It was a scary birth for Connie and Scarlett, now three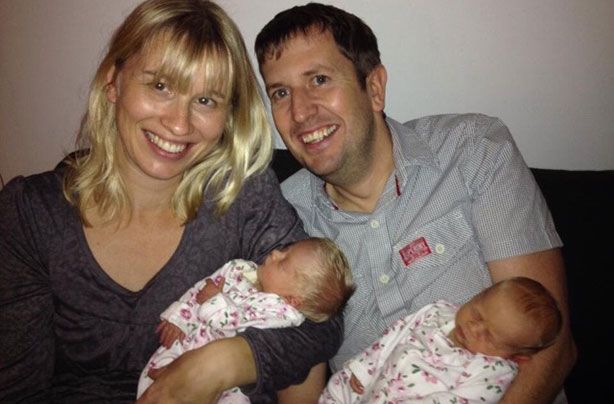 Having twins is a completely different experience than most single-baby pregnancies (opens in new tab) and births (opens in new tab) - from the physical effects to the emotional impact and everything in-between.
Louise, 38, works for the charity TAMBA (Twins and Multiple Births Association), which supports parents of twins and multiple births, helping to inform them and fundraise for research which will improve outcomes for multiple births.
She spends her days helping women through their own experiences in her role as a bereavement counsellor - but she's also been through a tough multiple birth herself, when her daughters Connie and Scarlett entered the world three years ago.
Here, she shares her own birth story, opening up about her girls' difficult arrival, and the dangers all mums of multiples can face...
When I became pregnant with the twins I already knew it would be completely different from when I had my first daughter Daisy, now seven.
Hers was a plain sailing pregnancy - I had a water birth (opens in new tab), it was absolutely amazing and everything went to plan.
I'd already been warned that being pregnant with twins (opens in new tab) would be a new experience, and that because there was two of them I may have to have a caesarean (opens in new tab) - but I was convinced that I wanted a natural birth.
Then 35 weeks in, a week before I was planning to go into hospital and have the twins, I suffered a massive bleed.
The bleeding started at 11pm and at first I just thought my waters had broken as it was dark, but once I turned the light on I realised I was bleeding - quite heavily.
I remember calling the labour ward saying: 'We're just going to pop in as I've had some bleeding' but they told me to phone for an ambulance straight away.
That's when I started to panic. What if something happened to one of my babies? They scanned me straight away when I got to the hospital but couldn't figure out why the bleed had happened - the twins weren't breech and seemed happy enough. But, just in case, they kept me in hospital for observation.
After four days of monitoring my waters did actually break, but as soon as the consultant came in the next morning I burst into tears and just said 'I need to get these babies out of me - I've had enough' and begged him for a caesarean.
Thankfully, he knew how much a natural birth meant to me. 'No, I believe in you, you can do this,' he said. 'You've wanted a natural birth this whole time so we're going to give you one.'
'I'll do a deal with you,' he continued. 'I'll give you an epidural and we'll induce you and if nothing happens then we'll give you a caesarean.'
But the birth wasn't as straight forward as I'd wanted it to be. Scarlett had to be brought out by forceps. She was the smaller of the two at 4.3lbs, but she was fine.
A couple of minutes later, Connie also got stuck, and she had the umbilical cord around her neck. It turned out that it had actually been her placenta that had bled away when I had the bleed. She'd made a massive turn in the womb and was breech, but once I made it to hospital she had turned back around again and her head was down. She had now turned again, and they had to use forceps to get her out too.
When Connie finally came out she wasn't breathing, and I was petrified that she wouldn't make it. It felt like an hour but it was only a matter of seconds. I knew she wasn't breathing when she didn't cry straight away - you see it on telly, rubbing them to make them breathe, but nothing was happening. Thankfully, it wasn't long until we heard her cries, but those few seconds were amongst the scariest of my life.
Once both twins were born, after a five hour ordeal, I finally managed to relax, but then we found out Connie had to go into SCBU (special baby care unit). The bleed has caused her blood levels to become really low, so she had to have a full blood transfusion.
She was in SCBU for around a day and a half - it was hard splitting my time between both babies, as they both need me as much as the other. Thankfully we got to take them home after a few days - and both were happy and healthy.
As a bereavement counsellor for TAMBA (opens in new tab), my job means I'm there to listen to people grieving - obviously I can't do anything, but I'm there to give them support when they need it. If there's any sort of support we can give them when they're grieving then we really want to be there for them.
I listen to stories every day of loss, stories very similar to mine. At the time of the twins' birth I don't think I appreciated what had happened, but the hospital were very good at down playing everything and not worrying me. Now, I realise that it could have gone a completely different way - and I'm so grateful to have my girls here, happy and healthy.
Sarah is a freelance journalist, writing for various women's magazines and national online consumer titles including the BBC and The Daily Mail, for over 10 years. Sarah has interviewed CEO's, real-life case studies and celebrities. Writing on everything from travel to fitness, and business to beauty - some of her features have been read by millions of people - in just one day.