Incredible moment nine-year-old girl walks for the first time after having her leg amputated
Tilly walks for the first time in seven years!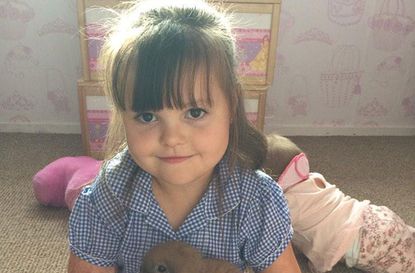 A nine year-old girl has just taken her first steps since having her leg amputated and a staggering 500 operations.
Tilly Sawford, who lives in the UK, received severe burns after falling into a scalding hot bath when she was just 15 months old.
The toddler had just a five per cent chance of survival after she suffered severe 4th degree burns to 86 per cent on her body. Although Tilly fell head first into the bath of scalding water, the only place she didn't suffer from burns was on her face.
Tilly fell into the bath after one of her siblings accidentally filled the bath when washing their hands. As the family had just moved house, they were unaware it had a faulty boiler, meaning the water could reach full boil in just a matter of seconds.
While Tilly was receiving treatment in intensive care for six months, her devastated parents, Emma and Kyle, were told five times that their little girl was very close to death.
However, after going through over 500 operations, including receiving shark cartilage and cow collagen skin grafts as well as having her leg amputated, Tilly has made an incredible recovery.
In the video, we see Tilly, now nine years old, taking her first steps after her amputation and we think she did an amazing job!
We hear her mum saying 'I can't believe you're walking on her own', giving her daughter a big round of applause as she walks across the room.
Image: Newsflare.com/SWNSPix
While at first she has to hold on to bars to walk, she's then told to try and keep her arms by her side. Tilly then, incredibly, walks without any help, before taking a little break.
We think Tilly is absolutely amazing and it's great to see her walking again!
Charlotte Whistlecroft is a former Family writer at GoodTo. She obtained a BA in Theology and Theological Studies at Durham University, going on to study a masters at City University London in 2016. Since leaving GoodTo she has worked as a Social Video Researcher at Mail Online and is now Assistant Producer at BBC Sport.