'Me Mary's on fire!' Hilarious One Born Every Minute mum becomes Twitter star
'My Mary! I feel like it's going to prolapse.'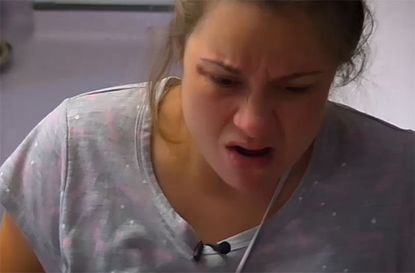 GoodTo newsletter
Sign up to the GoodTo Newsletter. You can unsubscribe at any time. For more information about how to do this, and how we hold your data, please see our privacy policy
Thank you for signing up to . You will receive a verification email shortly.
There was a problem. Please refresh the page and try again.
A new mother has had the nation in hysterics with her hilarious name for her vagina after appearing on TV show One Born Every Minute.
Louise, 30, probably didn't realise when she agreed to be shown on the Chanel 4 show, One Born Every Minute, that she would become an instant social media sensation, with viewers hailing her humorous outbursts as 'the quote of the series'.
The programme, which shows the workings of a real life maternity ward and all those that give birth there, followed Louise's journey as she prepared to welcome her little one.
The first-time mum from Liverpool was filmed having some difficulty in the delivery room, bouncing on an exercise ball in an attempt to hurry along her labour (opens in new tab).
Image: Channel 4
Part supporting her and part laughing at her was partner Andy, who couldn't help but giggle when Louise's contractions started to get more intense.
Even Louise's nurses let out a few laughs when they heard what came out of the expectant mother's mouth.
Red faced and visibly in pain, Louise had no problems communicating the agony she was going through to her boyfriend and nurse.
As the pain began to heighten, her language got more colourful and soon she began shouting at Andy about her 'Mary'.
Image: Channel 4
'My Mary! I feel like it's going to prolapse.
'Let's make the baby come out. My Mary's on fire. I think this will make something happen.'
The hilarious nickname for her vagina wasn't lost on the viewers at home, who immediately took to Twitter to hail Louise as coming out with the 'the quote of the series'.
One Twitter user said, 'We can't have couples like Andy & Louise every week cause I'll end up drowning in my own tears hahaha #OneBornEveryMinute #oneborn'
Most couldn't get over the brilliant nickname Louise had given her vagina, with many fans of the show quoting her.
Louise and Andy had been trying to conceive for six years before falling pregnant, a story that lots of viewers empathised with.
Have you been watching One Born Every Minute? What do you think of the show? Let us know in the comments below!