New parents slammed for giving up family dog because she 'barks and wakes up the baby'
'She's alone in a kennel wondering what she did wrong during her golden years of life'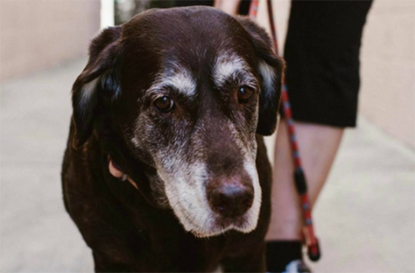 A story from South California based rescue home, Priceless Pets, has gone viral after commenters slammed the owners of one of their newest residents for giving up their pet.
Priceless Pets shared a picture of 11-year-old chocolate lab Ina looking sadly into the camera, explaining the heartbreaking circumstances behind her arrival.
'we often take in owner surrenders and they rip our heart out. Meet INA, she's a 11 year old chocolate lab who was surrendered because she "barks and wakes up the baby",' they wrote.
'11 years of giving her family all the love, dedication and heart she could and then she is discarded for such a small reason.'
The post has sparked huge debate about the family's justification to give up their beloved pet, with many users taking to the comments to express their frustration and support for Ina.
'You have a dog for 11 years and give it up just like that? That's f*****g cruel,' said one angry follower. 'You find a way to make it work. Imagine loving a family for so long and they just give you up because "it doesn't work". What a bunch of a**holes. If I was in their place then I wouldn't have a baby if it meant keeping my dog.'
'What a beautiful doggy! Humans make me so angry sometimes,' another agreed.
One commenter who defended the family's choice, but wasn't met by much support from other users: 'I know it's upsetting for the dog to leave it's family, but getting rid of the dog probably wasn't the family's first choice,' they argued.
'If I had a dog for 11 years, getting rid of it would break my heart. But at some point, it gets too difficult to keep it. If you've ever lived with a barking dog and a baby, it's difficult. It's sad that the dog had to leave, but please don't bash these parents. Try to understand and put yourself in their place.'
However, if Ina's story has got you welling up, you'll be pleased to hear that it does have a happy ending.
The post received over 2000 'likes' and hundreds of comments, with many displaying genuine enthusiasm for adopting her – some even offered to make donations or drive across the country to pick her up.
But after a fellow pet fostering service re-posted the picture, Ina's plight was brought to the attention of a new family, who fell in love with her at first sight and have now brought her home to their house on the beach.
'Her new mom and dad will be home with her every day, and she will have a little senior doggy sibling,' they confirmed. 'So this girl is going to have a better life now than she could've ever imagined.'
Trusted, informative, and empathetic – GoodTo is the ultimate online destination for mums. Established in 2007, our 15-year-strong archive of content includes more than 18,000 articles, 1,500 how-to videos, and 7,000 recipes.