Peter Andre divides fans with photo of sweet loaded treat boxes for his kids
Peter Andre has caused a stir on social media after sharing a photo of boxes of sweets he received as gifts for his children.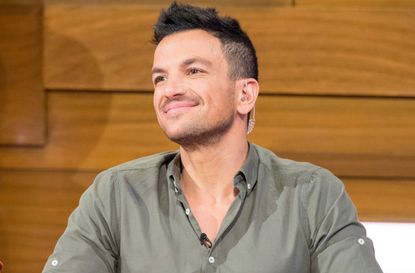 GoodTo newsletter
Sign up to the GoodTo Newsletter. You can unsubscribe at any time. For more information about how to do this, and how we hold your data, please see our privacy policy
Thank you for signing up to . You will receive a verification email shortly.
There was a problem. Please refresh the page and try again.
Peter Andre has caused quite the stir on social media after sharing a photo of boxes of sweets he received as gifts for his children.
In the image shared on Pete's Instagram account, packets of biscuits, sweets and bars of chocolate are laid out on the floor surrounded by boxes with Junior, 12, Amelia, 4, and 17-month-old Theo's names on.
In the caption, the doting dad informed his followers that 10-year-old daughter Princess, who is affectionately nicknamed Bista by her dad, also received her own sweet box but had already taken it away.
He said: 'Massive thank you to the lovely fans that buy my children so many gifts when I do an "evening with".
'You're all so kind and I love you lots. Bista took off with hers.'
But what Pete thought was just a harmless photo showing the love his fans extend to his family, actually turned out to spark a debate between his followers with some arguing that the confectionery was far too much sugar to give his kids.
One moaned: 'You can't feed your children all that sugar', referring to all the different sweets (opens in new tab) and treats in the picture.
Another warned: 'I wouldn't give my children anything from strangers as you can't be sure it hasn't been tampered with. There are some strange people out there.'
While a third joked: 'Don't let Jamie Oliver see what your kids eat', referring to Jamie Oliver's ongoing campaign against high fat and sugary foods for kids.
However, others defended the singer, with one writing: 'He has 4 children, I'm sure he knows when and how much sweets to give them... junior and princess are healthy children so I'm sure he will make sure Amelia and Theo are too! Some people are to quick to judge others these days!'
Another said: 'His children, his decision and let's face it the parents are more likely to eat the sweets than the kids'.
A third person added: 'Just remember Peter's wife Emily is a doctor and I very much doubt she or Pete will allow the children to eat more sugar than is healthy for them.'
While a fourth joked: 'Make sure someone send a box of carrots round next time'.
We have no doubt that doting dad Peter and the children's medical professional mum Emily will have made sure to monitor how many sweets the kids eat.
A Freelance Writer and Content Editor, Jenni has been working on the women's lifestyle team at TI-Media on and off for over three years. She writes about your favourite celebrities and TV shows so you never miss an update. Jenni also writes beauty news and features - so for all of your skincare and make-up needs, drop her a line.