Week by week pregnancy guide: 26 weeks pregnant
Everything you need to know...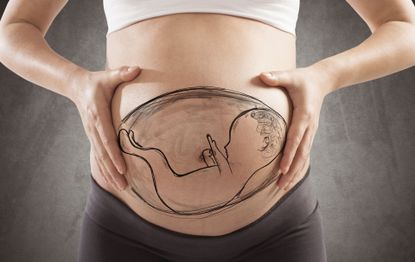 GoodTo newsletter
Sign up to the GoodTo Newsletter. You can unsubscribe at any time. For more information about how to do this, and how we hold your data, please see our privacy policy
Thank you for signing up to . You will receive a verification email shortly.
There was a problem. Please refresh the page and try again.
You're now 26 weeks pregnant but what should you expect? Read week 26 of our week by week pregnancy guide to find out everything you need to know...
During your pregnancy it's nice to know that the symptoms you're feeling are normal, which is why a pregnancy week by week (opens in new tab) guide can be so useful.
Here's a round up of everything you need to know about being 26 weeks pregnant, including how your baby is growing and developing...
26 weeks pregnant: Symptoms
You'll be putting on weight now at the rate of about a 1lb a week and may already have gained anywhere between 15lbs and 21lbs. You've been feeling your baby's movements for some time now, but around this point in your pregnancy your partner will be able to feel those little kicks from the outside.
Don't worry if you feel your uterus suddenly tighten then relax. These are practice contractions called Braxton Hicks (opens in new tab). They're your body's way of practicing for the real thing and toning up your uterus in preparation for labour.
26 weeks pregnant: Fetal development
Your baby is around 35.6cm and weighs 760 grams. Their lungs and brain are continuing to develop and very loud noises can make them jump. Their eyelids will open for the first time this week and they'll start to blink. (The eyes of caucasian babies are almost always blue when they're first born.) Their spine is becoming stronger and more supple. Your baby will now have distinct toenails, finger prints and even eyelashes.
26 weeks pregnant: The changes you should make
One purchase that does require some careful consideration is a car seat. Hospitals will not let you take your baby home without one, so read our guide to choosing a car seat (opens in new tab).
Bonding with your baby is something that starts in the womb, but partners can feel a bit on the outside - quite literally. But there are plenty of ways your other half can start bonding with your baby. Some dads have done everything from making homemade telephones out of empty toilet roll tubes to listening to their baby's heartbeat with a pinard stethoscope. One dad even sung 'I'm Forever Blowing Bubbles' to his baby every night in the hope that it would come out a true West Ham supporter.
Keeping fit during pregnancy is a good idea and swimming can be particularly soothing as the water supports your baby bump. Swimming also helps reduce swelling and boost your circulation.
The government recommends getting a whooping cough (opens in new tab) vaccination for women between 16 and 32 weeks of pregnancy, so if you haven't had it already speak to your GP about getting it booked in soon.
If you've decided you want to have your baby at the hospital, it's worth preparing your hospital bag in the next few weeks too...