Week by week pregnancy guide: 29 weeks pregnant
Everything you need to know...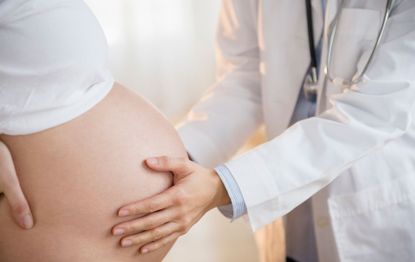 GoodTo newsletter
Sign up to the GoodTo Newsletter. You can unsubscribe at any time. For more information about how to do this, and how we hold your data, please see our privacy policy
Thank you for signing up to . You will receive a verification email shortly.
There was a problem. Please refresh the page and try again.
You're now 29 weeks pregnant but what should you expect? Read week 29 of our week by week pregnancy guide to find out everything you need to know...
Looking for a pregnancy week by week (opens in new tab) guide? You've come to the right place if you're 29 weeks pregnant.
There's lots to think about at this stage - like how much you should be eating and the best ways to deal with any discomfort.
You do need to eat for two in pregnancy but this doesn't mean eating twice as much. During the second trimester you only need an extra 300 calories a day. That's not a lot extra when you think that a banana and a 150g pot of Greek yogurt come in at around 270 calories.
With all that weight out front it's small wonder pregnant women aren't forever toppling over. The fact that they don't lies in our evolutionary past. A study at Harvard University looked at a group of pregnant women at different stages of their pregnancies. They found that the women corrected for their growing imbalance by bending backward in the lower part of their spine. Detailed anatomical measurements showed that the vertebrae of the lower back are more wedge-shaped in women than in men, which makes this bending easier. So, now you know that fun fact, here are the rest of the details about being 29 weeks pregnant that you'll want to know...
29 weeks pregnant: Symptoms
Do you wake up with pain in your hands at night? The chances are you're suffering from carpal tunnel syndrome. This is another common side-effect of pregnancy. It occurs when an area called the carpal tunnel in the wrist becomes swollen and puts pressure on the nerve running through the fingers. The pain can spread up your arm and down through your fingers, and is often worse at night. If you do wake up with pain in your hands, dangle them over the side of the bed and shake them vigorously. If they're still painful, ask your GP if a wrist splint might help.
You may also find that you've turned into a bit of a clumsy klutz. Your centre of gravity has changed and you may find yourself a bit off balance so do take care when going up and down the stairs.
29 weeks pregnant: Fetal development
Your baby is 38cm and weighs around 2lbs 4oz. They are small, but perfectly formed. Their head is now in proportion to their body and they look very similar now to when they'll be born. Their brain is growing quickly, pushing the soft skull bones out. Nerve cells are increasing so the brain is working faster and controlling body temperature and breathing. The organs will be growing rapidly too.
29 weeks pregnant: The changes you should make
If you want to, you can start your maternity leave and pay this week provided you have given the right notice. However, you may wish to work nearer to your due date in order to have more time at home with your baby after the birth.
If you're unemployed, your Maternity Allowance or Statutory Maternity Pay will start this week if you qualify, so make sure you have put in a claim. If you've been claiming income-based Job Seekers Allowance you'll now be entitled to claim Income Support instead as you no longer have to sign on and show you are seeking work.
If you are claiming benefits you may be eligible for a maternity grant of £500 to help you with the costs of your new baby. The earliest you can claim is now, the latest is when your baby is three months old. You cannot usually claim if you already have a child under 16 in your home. To find out whether or not you are eligible, go to gov.uk.