Week by week pregnancy guide: 34 weeks pregnant
Including tips for feeling more comfortable!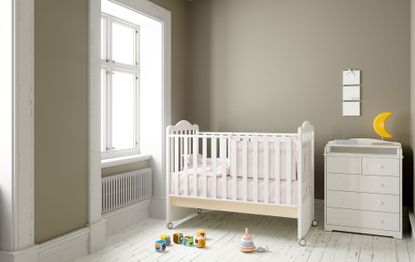 You're now 34 weeks pregnant but what should you expect? Read week 34 of our week by week pregnancy guide to find out everything you need to know...
At this point in your pregnancy, week by week, (opens in new tab) you'll no doubt start to feel more tired and a little uncomfortable - that's normal.
It's also time you start preparing for the hospital runs that may occur in the next few weeks. We've put together the following guide so you can know exactly what to do, when.
Swipe to scroll horizontally
34 weeks pregnant: Symptoms
If you suddenly find a tiny foot jammed uncomfortably into your abdomen or just under your ribcage, try rubbing it firmly and asking your baby to please move it. You may be surprised to find that they will. It's not uncommon at this late stage of pregnancy to find that nausea makes an unwelcome return. Small, frequent meals should help.
34 weeks pregnant: Fetal development
Your baby measures about 43cm and weighs nearly 4lbs 8oz. They are developing an immune system as up to this point they've been solely reliant on yours.
Around 3-4% of babies will be in the breech position where their bottoms or legs lie towards the birth canal instead of being head down. Your doctor may recommend trying an 'external version' where they encourage your baby to turn through manual manipulation, or a caesarean may be suggested. You may want to deliver your baby in the breech position, although there are some risks attached.
Did you know life in the womb can be pretty dull at times? Unborn babies have been captured on ultrasound having a yawn.
34 weeks pregnant: The changes you should make
Your midwife will measure your blood pressure and test for protein in your urine at your 34 week antenatal appointment. She will measure and plot your symphysis-fundal height and give you specific information about labour and birth, including your birth plan, recognising the signs of labour and coping with pain. Women who are rhesus D-negative may have a second dose of anti-D prophylaxis.
If you're having twins and they share a placenta then you will have another growth scan this week, alongside your routine antenatal appointment.
If you have an older child you'll need to plan carefully for his needs when you go into labour. Your partner could be at the hospital with you for ten hours or more so you'll need to find someone your child is happy to be left with and someone who can come to the house during the night if necessary. Line up friends and relations now and use these final weeks to try leaving your child with them for an hour or so to check that he's happy with the arrangement.
Eager to avoid stitches? Well there is something you can do about it. Research has shown that massaging your perineum from Week 35 onwards means that you are less likely to need an episiotomy or suffer a perineal tear.