Week by week pregnancy guide: 39 weeks pregnant
Here's everything you need to know...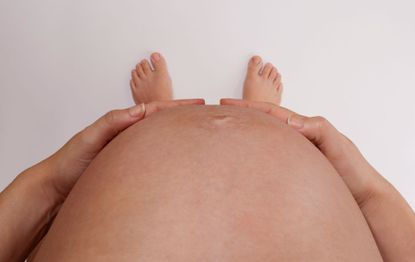 You're now 39 weeks pregnant but what should you expect? Read week 39 of our week by week pregnancy guide to find out everything you need to know...
If you've been tracking your pregnancy week by week (opens in new tab) you'll know that you're almost due now!
The final weeks of pregnancy can feel long, but you'll have your new baby before you know it. Here are the last few changes you should be making before your bundle arrives, as well as the development your little one is making in the womb.
Swipe to scroll horizontally
39 weeks pregnant: Symptoms
You're probably feeling like you are about to pop as your uterus takes up all the space in your pelvis and into your abdomen, too.
Before labour starts, some women experience diarrhoea and vomiting. This is your body's version of a clear-out - diarrhoea is common before labour as the bowel is stimulated by prostaglandins. You may also get backache, similar to the type you may have with your period.
You may also find that your mucus plug is starting to come away. This sealed your cervix during pregnancy and it will now loosen as you prepare for your baby to arrive. It will looks like a jelly-like substance and could be clear or slightly pink. It may also be slightly streaked with blood and could come in a single piece or in several blobs of gel.
39 weeks pregnant: Fetal development
Your baby is about 49cm and weighs just over 7lbs and is very, very snug in your uterus. The umbilical cord is now 51cm long. Your baby is continuing to build up their own immunity that will carry on developing after birth.
Babies are born with more than 300 bones in their body. As they grow these bones fuse together and by the time they are fully grown they have just 200.
39 weeks pregnant: The changes you should make
When to go to the hospital is one of the things that mums worry about. If your contractions start but your waters haven't broken and you live near the hospital, wait until they're strong and about five minutes apart, lasting about 60 seconds before going in.
Phone the hospital before leaving home and remember your notes or card. If you're having a home birth, ring your midwife if your waters break, or when your contractions get strong.
Make sure your phones are constantly charged and keep a supply of coins in the car for the hospital car park. When you're in labour you don't want your partner fretting about getting a parking ticket.