Week by week pregnancy guide: 4 weeks pregnant
Think you're 4 weeks pregnant? Check these symptoms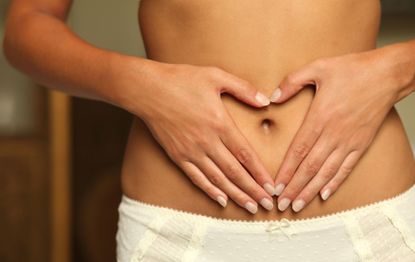 Everything you need to know about week four of your pregnancy!
Looking for a guide to your pregnancy, week by week? (opens in new tab) You're in the right place.
As you progress into your fourth week of pregnancy you may notice some subtle changes in how you feel.
To put your mind at rest that everything you're experiencing is normal we've put together a guide on all the usual signs and symptoms of being 4 weeks pregnant. Here's a run down of everything you need to know...
Swipe to scroll horizontally
4 weeks pregnant: Symptoms
You probably won't be feeling any different physically just yet, but around 30% of women will experience some light spotting as the fertilised egg implants. This can last for a few days and can be mistaken for a light period.
Don't worry, though, any doubts about your dates will be cleared up with your dating scan which happens between weeks 8 and 14 of pregnancy.
It's completely normal to feel a little anxious at the start of your pregnancy - your body is undergoing a huge change after all!
Be sure to speak to your family and friends as much as possible and reading up on your pregnancy week by week will help you understand the changes you are experiencing.
4 weeks pregnant: Fetal development
The fertilised egg bundle nestles into the lining of your uterus which then grows protectively over the bundle. The placental tissue begins to produce the hormone HCG which is the hormone pregnancy tests look for. For the impatient among you there are pregnancy tests on the market that are able to detect this pregnancy hormone before your period.
However, be aware that these only get it right for 62% of pregnant women, so testing this early may be setting yourself up for unnecessary disappointment.
Chemical pregnancies are when an egg is fertilised but fails to implant successfully. This happens so early that many women won't even have known that they were ever pregnant.
However, because modern pregnancy tests are so sensitive, women are now able to detect a pregnancy much earlier on. This is the reason why some women may have a positive test but then find they aren't pregnant.
Your unborn baby's so tiny it could fit on the head of a pin at the moment! By the time it reaches the uterus, the rapidly dividing ball of cells - now known as a blastocyst - has separated into two sections. The inner group of cells will become the embryo. The outer group will become the cells that nourish and protect it. The placenta, which will nourish your baby throughout the pregnancy, also begins to form.
4 weeks pregnant: The changes you should make
You should continue to eat well and take your folic acid, but there are other changes you should make.
When trying for a baby you may not know that you are pregnant for several weeks after conception. So even before that positive test result, follow the guidelines for healthy eating in pregnancy and avoid those foods that may pose a risk to your growing baby.
You should also be taking folic acid supplements until week 12 of your pregnancy. This reduces the the risk of neural tube defects.