Queen's last corgi 'Willow' passes away
The Queen is said to be mourning the loss of her corgi, Willow.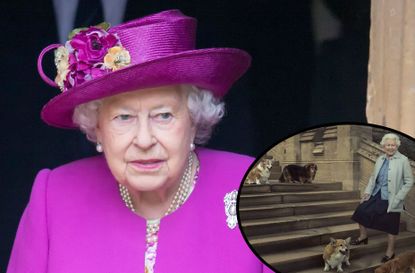 The Queen is reportedly heartbroken after her beloved corgi Willow died on Sunday.
Her Majesty, who is known for her love of dogs (opens in new tab) and especially the corgi breed, said goodbye to her last remaining corgi over the weekend after the dog suffered a long illness. Willow, seen at the top of the steps in the photo below, descended from the Queen's first dog Susan and was the 14th generation of corgis bred by the family.
According to The Telegraph, Willow was suffering from a cancer-related illness and was thought to be nearly 15-years-old.
The Queen didn't want Willow to suffer any longer and made the heartbreaking decision to say goodbye. Insiders have said the Queen was hit 'extremely hard' by the loss of Willow.
A Buckingham Palace source told the Daily Mail: 'She [The Queen] has mourned every one of her corgis over the years, but she has been more upset about Willow's death than any of them…'
'It is probably because Willow was the last link to her parents and a pastime that goes back to her own childhood. It really does feel like the end of an era.'
Susan, the dog that Willow descended from, was an 18th birthday present for Princess Elizabeth before she took the crown to become Queen. During her lifetime, the Queen has owned more than 30 dogs and at one stage she had 13 in total.
The Queen, then Princess Elizabeth, with her dog Dookie in 1936
The Queen's corgis have been allowed to share the limelight in family portraits and even starred in the now infamous Jams Bond sketch which was filmed at Buckingham Palace for the opening ceremony of the London Olympics.
Although Willow wasn't the Queen's last dog, and her Majesty still has two pets to keep her company, the corgi was one of her pets who held the most sentiment.
The Queen still has two dorgis, corgi-dachshund crosses, called Vulcan and Candy. Last year she revealed her decision not to have anymore pets as she wouldn't be able to properly care for them in her old age.
In 2015 she stopped breeding the dogs over fears she might trip and fall on the puppies. It is also thought that the Queen did not want to leave any dogs behind when she dies.
The Telegraph reached out to Buckingham Palace for comment but they declined saying it was a private matter.