Reddit users slam 'demanding' and 'ridiculous' first birthday wish-list email from parents
Would you send a birthday list like this?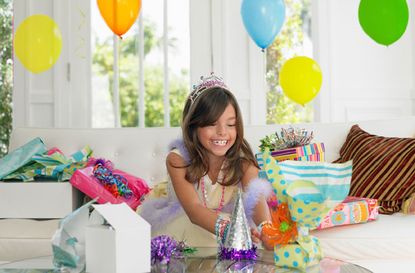 As a parent, obviously we all want the best for our children and when family members aren't sure what to buy them it's helpful to give some direction.
After all, who wants to waste money on something a child will never use?
However, there are limits - and this letter has had a lot of criticism for going way past them!
One irritated family member and Imgur user posted this note they received before a child's birthday party, and you might be surprised by how far the child's parent has gone to ensure their little one gets the perfect present.
The email had been sent out to family members by a pair of, shall we say, pro-active parents, ahead of their child's first birthday party. Setting out some do's and don'ts, the mum and dad have some pretty strict rules about what to buy their child.
It starts off by outlining that they want to limit presents to 'only 2 gifts per household' and only from 'grandparents and the direct uncle/aunt' of their child - so if any cousins, friends or godparents were thinking of gifting, they've got another thing coming.
These parents don't mince their words when it comes to spontaneous present buying, asking that 'if you choose to get a gift that isn't on this list, anytime regardless of birthdays or holidays, please be sure to include the receipt going forward'. They go on to add, 'When we return items without receipts we only get 50% of the value, so it's like throwing money away'.
The parents finish the email by pointing out that personalised gifts are unsuitable and that they have enough books to last until their baby is 3+.
Image:Imgur
You might be thinking, whatever happened to the days of thoughtfully picking a gift that means something coming from you? Or spontaneous gifting to show your family you're thinking of them?
You wouldn't be the only one slightly confused, with Imgur users expressing concerns on how strict parents can be when it comes to gifts.
Users described the email as 'ridiculous' and 'demanding', with one user commenting 'As a parent of a two year old, you should never expect someone to give a gift, that's rude. If someone buys something be grateful'.
With over 6,000 comments, the post has been causing quite a stir, and the opinions have been hugely negative with comments such as 'please be joking' and 'just write cash-only on the invites'.
One user claimed the author of the email had 'absolutely NO social skills. Clearly they have no ability whatsoever to analyse their own actions and predict the reactions of others'.
This isn't the first time the internet has disapproved of demanding birthday wish lists! Remember Myleene Klass's Twitter rant after receiving over-the-top gift suggestions from mums at her daughters' school?
We have a feeling this one is going to divide mums all over, but what do you think? Would you be annoyed to receive this email? Or is it fair enough to set out guidelines to stop family members wasting time and money?
Comment below and let us know your thoughts!
Trusted, informative, and empathetic – GoodTo is the ultimate online destination for mums. Established in 2007, our 15-year-strong archive of content includes more than 18,000 articles, 1,500 how-to videos, and 7,000 recipes.