We earn a commission for products purchased through some links in this article.
It was war at the school gates for Myleene Klass after she shared private emails about a collection for presents for a birthday party – but despite dividing opinions with her no-nonsense approach, she says she stands by her decision to post the messages online.
In a recent interview with Fabulous magazine, Myleene explained: 'I want my children to receive yo-yos and give yo-yos, not Kindles. Being happy is not about stuff. 'I know it doesn't make me popular but this is what I stand for. I wasn't raised like that.'
'This is why I keep getting myself in trouble. I can't keep my mouth shut. But that's who I am.'
Myleene's outspoken tirade caused quite the scandal when it first emerged, with even the headteacher of the £5,000-a-term private institution in North London getting involved.
In a newsletter issued to parents, the head wrote: 'How I wish I could focus on your daughters' education and not on responding to media trivia. How many times this week have I been asked to comment/act/intervene/reprimand/ … do something! Mutual respect and tolerance. FBV [fundamental British values]. We actively promote them – do you? I needed to get that off my chest. Now, on with the week's round up of news. No more parking on zig zags. No more blocking in the neighbours. No more unicorns. And as my granny would've said, if you can't tweet anything nice, don't tweet anything at all.'
Mum-of-two Myleene, 36, posted the messages from the mums on her Twitter and Instagram accounts, along with her sarcastic response: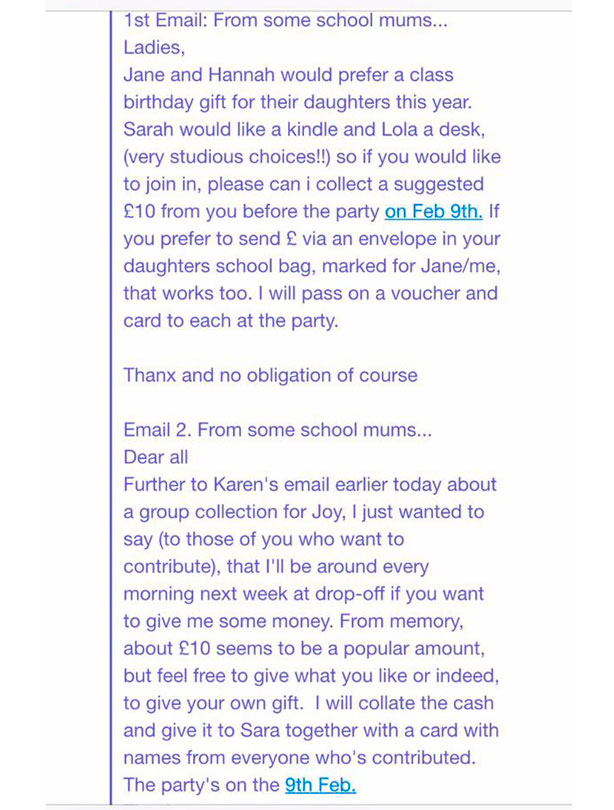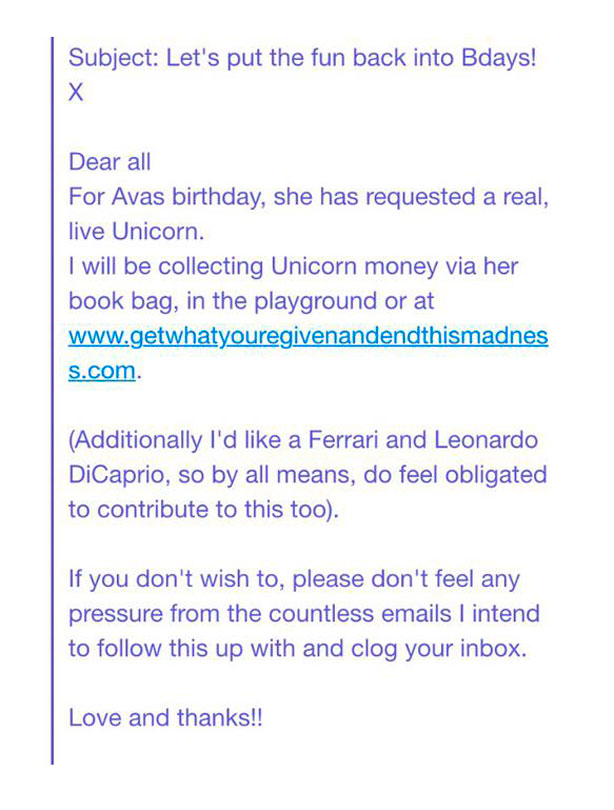 The parents involved have since spoken out against her actions, deeming her public posts to be a 'cheap shot' and a publicity stunt, and accusing her of using the emails to get media attention.
One parent said: "She has betrayed our confidences and belittled us so publicly. Lots of people have complained."
Another mother agreed: "It is so out of order. She isn't going to have any friends left."
Reportedly, when one member of the ground spoke to Myleene directly, calling "why did you do it, Myleene?", she simply replied "if you've got a problem with it, talk to me in private."
Outside of the playground, however, Myleene received hundreds of retweets and messages in support of her no-nonsense approach, with one responder saying: 'It's the sad face of society today, pure greed I'm afraid. They should feel ashamed.' Despite the fury of the mothers who were part of the original email chain, Myleene stands by her tongue-in-cheek email. 'At this age, all I wanted was a yo-yo that lit up!' she exclaimed in a further tweet.
Myleene with daughters Ava and Hero
What's your take on the great present debate? Should parents be allowed to dictate what their child is given (and indeed, collect the money for the gift directly!), or should it be, as Myleene says, a case of "you get what you're given?"
Let us know in the comment section below!