Parents warned over 'popular' children's app Roblox that features 'inappropriate' content
The app also lets kids talk to strangers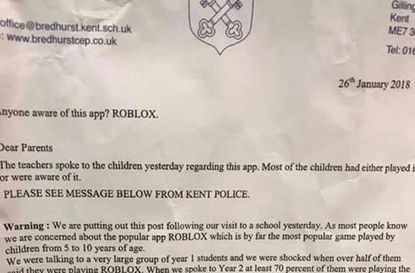 Parents are being warned over a children's app called Roblox, which allows strangers to message kids and features 'inappropriate' content.
Parents are being advised to check if their children are using the app, which has been described as being 'by far the most popular game played' by kids aged between five and 10 years old, and monitor their account.
Roblox, which has more than 30m users, allows children between eight and 12 to play in 'virtual worlds'.
However, there are concerns that the game is letting children interact with strangers without their parents knowing, and also features 'naked characters' doing 'very adult things'.
The warning comes from Bredhurst Church of England Primary School, in Gillingham, who sent a letter to parents of their students.
https://www.facebook.com/photo.php?fbid=10215854927473247&set=a.2053518784728.2126794.1447303360&type=3&theater
The letter was later shared on Facebook by Victoria Plum: 'We were talking to a very large group of Year 1 students and were shocked when over half said they were playing Roblox.
'In Year 2 70 per cent said they were playing the game. Most of these children disclosed they had online friends in Roblox that their parents didn't know about.
'It got worse when many of the children stated they had received in-game messages from strangers and they hadn't told their parents.
'All of the children said they had seen naked characters walking around the game and doing very adult things.'
While the letter states the warning comes from Kent Police, head teacher Michelle Cox later confirmed that the police was not involved and the message actually came from online safety company EST eSafety Campaign.
She told local paper Kent Live: 'As I have stated, many pupils we spoke to said their accounts were 'maxed out' meaning they had 200 online friends.
'We also suggested that parents checked the children's message inbox to see if they had received inappropriate messages.
'After issuing this advice letter, I discovered that the original warning had not come from Kent Police but from an online e-safety company, and I am sorry that my note was misleading in that aspect, but I stand by the basic message in my letter.
'Safeguarding of our pupils is of the utmost importance and online safety is a major part of that.'
Have you heard of Roblox and have your children been using it? Let us know in the comments!