Rochelle Humes opens up about why she will never share pictures of her children on social media
Rochelle has a very good reason for being so protective of her daughters' identities...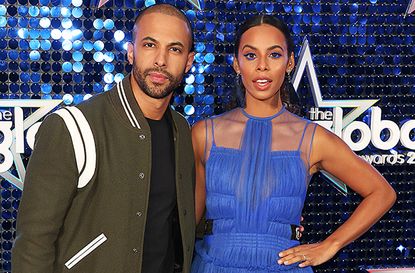 Rochelle Humes has explained to her fans exactly why she will never share a picture or video of her two daughter's faces on her public social media accounts.
Rochelle Humes and her husband Marvin celebrated a big milestone for their youngest daughter this week. It was Valentina's first birthday and Christening and Rochelle took to Instagram to share some intimate pictures from the special day.
Rochelle and Marvin invited lots of family and friends, many of whom are also in the public eye, to join the special occasion. Unsurprisingly the day was well documented with everyone taking pictures and videos to look back on in the future.
However, little Valentina was noticeably hidden in all of the pictures from her big day, causing some fans to question why she couldn't be properly seen in the photos.
The couple regularly post about their young family but always refrain from showing their faces. Their eldest daughter is Alaia-Mai (opens in new tab) who turned four last May.
Addressing this Rochelle explained in the comments section of the pictures she posted on Instagram, why she chooses not to include her children's faces on her own social media.
She said: 'As their parent I choose to protect their privacy until they are old enough to choose whether or not they want to be in the public eye. Nothing to do with me thinking I'm someone I'm not, I just want them to to decide.'
The radio presenter added: 'Everybody in life parents different and that's our prerogative. ❤️'
With over a million followers on Instagram, Rochelle's fans flooded the picture with their support for her decision.
One wrote: 'I really admire your choice and I refrain from posting my child on various platforms even though I live a normal life. Let your children be known by those that invest time in them, not study their existence from your timeline. X'
[instagram]
Rochelle and Marvin never include their children's faces in their social media posts
Another added: 'Soo much respect for you and Marv for protecting your kids privacy, and not throwing them into the public eye like some people do!!'