Rochelle Humes' tooth fairy query prompts genius ideas from fellow mothers
Rochelle Humes sparks debate with tooth fairy query on Instagram.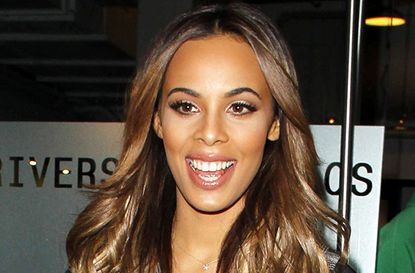 (Image credit: REX)
Rochelle Humes had somewhat of a dilemma over the weekend when her eldest child lost her first tooth.
The 29-year-old singer took to Instagram to ask fellow mothers for some advice on how much the tooth fairy likes to leave these days.
Rochelle's post was met with some fantastic responses and revealed the lovely things parents do when their little ones start losing their teeth.
The picture, which has been liked over 12,000 times, shows a tiny little pink door with a sign hanging on it which reads: 'Tooth fairy please visit."
Beside it sits a little yellow box for the child to place their tooth in. Rochelle captioned the photo: 'Back from work, and my big girl just lost her first ever tooth. I'm a bit emotional about it. The question is how much does the tooth fairy leave in 2018? please help.'
While many parents replied saying they usually leave a one pound coin or a two pound coin, others gave much more adventurous ideas.
'I left a new toothbrush and toothpaste n floss wrapped in a note from the tooth fairy saying how Proud she was at all his great work keeping his teeth so clean & healthy and to kp up the good work! His face Ws priceless!!! In a good way,' one parent wrote.
Another suggested: 'If you make it special and add glitter to a note whatever you give her she will appreciate! Money is an obvious choice but that doesn't always mean something or count!' while a third added: 'Always a £1 and get a cotton bud and dab it in baby powder and glitter and dab it along like footprints ... pop the coin near it and it looks like fairy feet.'
One mother came up with something a bit different, explaining: 'Our tooth fairy leaves a coin from somewhere in the world she's been before and we look up on the globe where that is!!'
Other parents admitted to sometimes leaving five or ten pound notes when they didn't have any change, but this left some mothers outraged.
'£1 ffs they are small children. It's a tooth, the most exciting thing is that they are being visited by the tooth fairy!' one wrote, while another added: '£1!!!! I can't believe people ask how much people give. Seriously!!! It's a tooth, the magic isn't the money is the fairytale behind it all.'
'Wow, the tooth fairy prices have gone up with inflation!' a third person responded.
One mother attempted to simplify the discussion and simply stated: 'Depends on how clean the tooth is - the whiter the tooth the more money she gives!'
It's unsure how much Rochelle actually decided to leave for her five-year-old daughter Alaia-Mai, but she certainly had plenty of options to choose from!
Words by Kirsty McCormack.
Trusted, informative, and empathetic – GoodTo is the ultimate online destination for mums. Established in 2007, our 15-year-strong archive of content includes more than 18,000 articles, 1,500 how-to videos, and 7,000 recipes.