The secrets behind royal etiquette REVEALED
You might be surprised...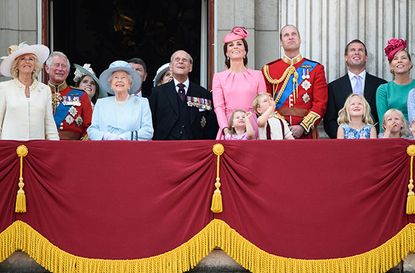 GoodTo newsletter
Sign up to the GoodTo Newsletter. You can unsubscribe at any time. For more information about how to do this, and how we hold your data, please see our privacy policy
Thank you for signing up to . You will receive a verification email shortly.
There was a problem. Please refresh the page and try again.
The world of royal etiquette is a complicated and intriguing one. Can you shake a Royal's hand? Why don't we ever see Wills and Kate holding hands?
From small talk to greetings, there's a lot to be said about royal etiquette. And although the Royal Family's official website says there's 'no obligatory codes of behaviour' when it comes to royals, there are 'traditional forms' that some people like to follow.
So what are the rules and what do they mean? Here's what the experts have to say...
Why does Kate Middleton never sign autographs?
Have you even seen Kate or William signing an autograph for their adoring fans? They may be able to take all the selfies they want with the public but the royal family are banned from signing any autographs. Why? According to the Daily Express they've been forbidden, just in case someone uses that signature as a forgery. If they're asked, they have to politely decline (apparently Prince Charles says: 'Sorry, I'm not allowed to do that.') So if you happen to bump into them - selfies are in, and autographs are a big no no!
What food are the Royal Family NEVER supposed to order?
It's rare that the royals are actually pictured eating, but with all of those fancy banquets they attend, we figure they must get served some pretty delicious dishes whilst performing their duties.
However, there's apparently one dish that the entire family are not supposed to order - shellfish. According to reports, it's something that everyone from the Queen to Kate is forbidden from choosing from a menu, because it carries a risk of food poisoning.
It's also thought that they steer clear of rare meat and tap water when abroad, lest they be struck down by a similar bug that could take them out of action. After all, they do have rather busy schedules to adhere to...
Why does Kate never ride horses?
Unlike polo-loving William and Harry, and keen rider Queen Elizabeth II, Kate has never been pictured riding a horse. Many assume this is a matter of etiquette, but Marcia Moody, the author of Kate: A Biography, says it's simply because she's a Middleton, not a Windsor.
Speaking to Town & Country, Marcia explained: 'Kate doesn't ride, purely because she didn't do it growing up. William and Harry were taught from an early age, but the only time they ride now is for polo - they don't go off on hacks like the queen always has.'
However, although their mum might not be getting behind the reigns, it has been reported that Prince George and Princess Charlotte are already having lessons, so perhaps they'll follow in their grandmother's famous footsteps...
Why do Kate and William never hold hands?
Apart from their fairytale kiss at the royal wedding in 2009, Kate and William are rarely seen showing affection for each other in public, including holding hands.
This could be considered strange, especially for a couple who seem very affectionate towards each other, but turns out there's a reason why.
When the Duke and Duchess of Cambridge are attending official engagements, they are at 'work', says HELLO! Magazine's royal correspondent Emily Nash, and showing public displays of affection would be considered 'unprofessional'.
'The Duke and Duchess are almost always seen in photographs taken during official engagements so they are at 'work' and it would be unprofessional to hold hands', she told Hello!.
'They also need to shake hands with a huge number of people as they meet then, so aside from being on duty, it wouldn't be very practical!
'We know they are very affectionate and that sometimes comes across during more light-hearted moments, at sporting events or similar, but you wouldn't expect them to put that on show while in more formal situations.'
Why does Kate always hold a clutch bag?
Kate goes to a lot of events as part of her duties as a member of the Royal Family (a total of 140 in 2016, to be precise), and she seems to always accompany her outfits with the same choice of bag - a clutch.
But why does the Duchess love clutches so much? Looks like they not only add a chic touch to your outfit, but can also be used as a shield to avoid shaking hands with everyone.
Although protocol says you can only extend your hand to a member of the Royal Family if they extend their hand to you first, Kate uses her clutch to avoid 'awkward' situations, according to experts.
Myka Meier, founder of Beaumont Etiquette, told Good Housekeeping: 'When the Duchess is at an event, she holds her bag in front of her in both hands when shaking hands might be awkward.'
Etiquette expert William Hanson told the Mail Online: 'The Duchess of Cambridge may well prefer not to shake hands with certain people - but there are other ways to achieve this, as used by The Queen and other members of the Royal Family.'
'It is protocol that you do not extend your hand to any member of the Royal Family (blood royal or those who have married in to the family) unless their hand extends first,' he explains.
What's the correct way to address a member of the Royal Family?
According to the official website of the Royal Family, the correct way to address the Queen is 'your majesty' at first, 'ma'am' afterwards.
For male royals, 'Your Royal Highness' should be used in the first instance and 'Sir' after that. Other female members of the Royal Family should firstly be addressed as 'Your Royal Highness' and then as 'Ma'am' after that.
But if you're ever lucky enough to meet Prince William, none of this will apply.
'I am and always will be an HRH. But out of personal choice I like to be called William because that is my name and I want people to call me William - for now', he once said.
What can you say to a member of the Royal Family?
After you've addressed them correctly, what do you talk about? There's rules for that too!
When speaking to a member of the Royal Family, chats should be kept easy and neutral, not touching on any political or religious topics. Apparently the Queen has a question she always uses to get the small talk started: 'Have you come far?'
Here's hoping we bump into her and get to practise some of these soon!