Experts warn against 'sinister' spy camera designed to make children 'behave perfectly'
'The elves are watching you!'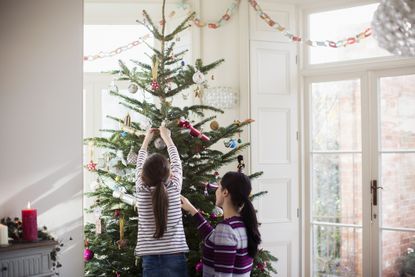 (Image credit: Getty/Hoxton)
Lets face it, every parent wants their little one to be on their best behaviour, and using Santa's presents as a bargaining chip during the Christmas period is the oldest trick in the book.
But a Santa spy cam, designed to make children 'behave perfectly', has sparked controversy, as it's seen by some parents as normalising surveillance and, ultimately, doing more harm than good.
Telling youngsters Santa is watching their every move to decide if they'll be on the naughty or nice list may not be enough anymore, as some parents have started including a 'Santa spy camera' in their check-list of Christmas traditions (opens in new tab).
The Elf Surveillance Dummy Security Camera, available on Amazon (opens in new tab), is one of the many spy cameras that you can buy so your children think they're being watched by Father Christmas's elves.
The product is described as a 'dummy security camera' that will make your children 'behave perfectly under the watchful eyes of the elves'. The replica is not actually surveillance equipment e.g, it won't really be watching your children - but rather a toy with a red flashing light that will make kids think the elves are watching them.
While some parents think it's a great way to make children behave during this very excitable time of year, the product hasn't been considered a hit by everyone.
Renate Samson, spokesperson for the Big Brother Watch who campaign to ensure 'privacy and civil liberties are maintained in the digital age', said the spy camera trend could be normalising surveillance for children, which should not be encouraged.
MORE: What is a reverse advent calendar? Why you should make one this year with your family (opens in new tab)
"Childhood is a time for being both naughty and nice, for learning about how society works, what's right and what's wrong," the spokesperson said. "It's not a time for thinking everything you do is going to be filmed and someone is going to punish you for it. This kind of gimmick makes light of surveillance but it's not a joke. We should discourage children from feeling as if they're living in some sort of panoptic state."
And it seems many parents agree. Over on Amazon, one mum said that the toy left her children 'crying their eyes out', after admitting she hadn't considered the negative impact it might have.
She wrote, 'What a bad decision! I hadn't thought the physiological effects of this through.
'It lasted all of ten seconds as my children were crying their eyes out at the idea that elves would spy on them in the intrusive and constant way. I removed it and binned it but still had three troubled little girls who were scared to sleep alone for a few days.
'Cameras should only be used responsibly and as a security measure, not welcomed into the home as though they belong there as part of daily life. The same goes for toys which claim to be spying on children, this is verging on the creepy and not a concept we should be introducing children to.'
Another parent agreed, making fun of the concept in another Amazon review. They said, 'Prepping my kids for a future of surveillance and intrusion has never been more fun! And it's far easier than actually teaching them to behave too."
MORE: Top Christmas toys 2019: Must have Christmas toys for boys and girls 2019 (opens in new tab)
Dr Hayley van Zwanenberg, child and adolescent psychiatrist at Oxford Wellbeing Centre, argues that surveillance devices like the Elf Surveillance Dummy Security Camera, whether real or not, send out confusing messages to children regarding privacy.
Hayley told GoodtoKnow, "We aim to teach our children about their rights to privacy and we give safety messages regarding aspects of their bodies and lives being private; placing a spy camera in the house which they believe allows "a being" to watch their every move is slightly contradictory and confusing regarding these safety messages."
She also explained that a device such as the Elf Surveillance Dummy Security Camera could increase anxiety within children.
"It is good for children to feel they can play freely and be themselves," she continued. "If they have in the back of their minds that they need to inhibit this exploration even in their own home it could be detrimental and in some young people who already have a predisposition to anxious traits, increase anxiety.
"I would suggest parents weigh up whether this is just a bit of fun or if it is preventing a young person from having their personal space in an uninhibited manner."
However, many parents on Amazon loved the idea of the spy cam, with many revealing that their kids were being much better behaved with it installed.
One wrote, 'This wee camera is a great idea. I have a 3 year old who is a very fussy eater and I put it up at the start of October and told him santa was watching...hes eating much better 😂'.
While another said, 'My 2 sons love it, it flashes to remind them Father Christmas is watching...'
The company who make the toy, PMS International, reacted to the controversy by saying, "There is no sinister intention behind the products.
"Families who take part in the elf phenomenon enjoy this Christmas ritual enormously."
Amy is Senior Digital Writer across Woman & Home, GoodTo and Woman, writing about everything from celebrity news to health, fashion and beauty features. When she isn't obsessing over the latest dress drop from Marks & Spencer, you'll most likely find Amy out running, or with a cup of tea in hand ready to dive into a gripping new Netflix series.