Single father shares heartbreaking letter about raising his daughter alone
'I didn't have time to be worried though because that beautiful little girl needed a parent who could be her rock and would love her to pieces.'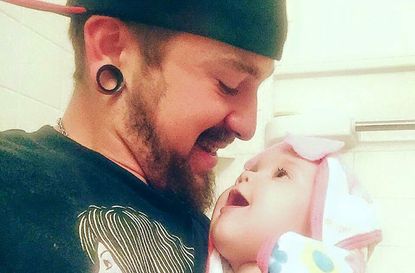 An emotional letter from a single father who shared his parenting experience on Facebook is going viral.
Richard Johnson became a single father when his partner left about a month after their little baby daughter, Persephone, was born.
Sharing his story in an emotional letter posted in the Life of Dads Facebook page, an online community for dads, Richard wrote that there were times when he wasn't sure he could it.
He read every parenting book he could find and watched more than 1000 hours of YouTube videos 'from everything to braiding hair and painting nails to theories on how to deal with common parental issues', but then he finally found comfort in the Facebook page, learning about the parenting experiences of other dads.
[facebook] https://www.facebook.com/lifeofdad/photos/a.434607921426.227352.299622516426/10153641487446427/?type=3&theater [/facebook]
After the success of his initial post, which got over 90,000 likes and 7,000 shares, the 'hero' dad posted once again, this time sharing more of his emotional story abou becoming a single dad.
[facebook] https://www.facebook.com/lifeofdad/posts/10153642138471427:0 [/facebook]
Richard wrote that he was raised by his single mother, after his dad walked out on them when he was six years old and that growing up without a dad only made his parenting experience even more daunting.
'So being that I never had a father it was truly frightening to become one. Even more so when I was going to do it alone. I didn't have time to be worried though because that beautiful little girl needed a parent who could be her rock and would love her to pieces. In my mind there was no other option.'
After his initial struggle with taking care of his baby girl on his own and not thinking he would be 'a good enough father', Richard said he finally got through it because his daughter needed him and he had not other choice.
'The days have been rough and at times I wasn't sure I could make it another day. I spent more then a few nights holding my little girl as she slept weeping because I wasn't sure I was going to be a good enough father for her.
'One night in particular was the night she first crawled. She came to me and laid her tiny little hand on my cheek and stared into my eyes. I took it as "Come on Daddy, we have a lot to do." So I told her no more crying for either of us and we were going to fight to be happy. We've kept true to that promise.'
Even though Richard wasn't specific about the reasons behind his partner leaving, he said in his second post that it had to do with post partum depression. Despite being left to raise his daughter by himself, he showed respect for his baby's mother and stood up for her after some negative comments in his post.
'Her mother is an amazing woman and I will have to ask the few people who had negative things to say about her to please refrain from doing so. No matter what she is the mother of my child and I only wish the absolute best for her', Richard wrote in his second post.
Many people commenting on his post were single fathers and mothers who identified with his experience of having to step up and fulfilling two roles.
Richard was also called a 'hero' and an 'inspiration' by many, and we certainly agree!
Main image: Life of Dad Facebook page (opens in new tab)
Trusted, informative, and empathetic – GoodTo is the ultimate online destination for mums. Established in 2007, our 15-year-strong archive of content includes more than 18,000 articles, 1,500 how-to videos, and 7,000 recipes.