We earn a commission for products purchased through some links in this article.
The first day back at school photo. It's a classic isn't it? And one that will be pulled out year after year to compare.
Now, positioning is important. You clear up the porch so as to avoid the hoover making it into shot. Your front door gets a wipe over with Dettol and everyone, including the cat, gets a roll over with the lint brush before sizing them up for the perfect photo.
But that's not before your child goes through the 7 very real stages of back to school fever. We reckon everyone's taken one of these in their lives. Just how many can you relate to?
This year we wanted back to school to be bigger than ever, so we're giving away a brand new Wiggins bike from Halfords to celebrate your little ones going back. So take inspiration from this lovely lot, and don't forget to enter!
1. The untimely visit from the tooth fairy
There's nothing more unfortunate than waking up on the 1st September to find that the tooth fairy has collected most of your front teeth in the night! But this little one's still got plenty to smile about – cute!
Carson's mum Jo sent this snap, saying: 'Here's Carson looking pleased as punch to be going back to school (minus baby teeth!)'
2. The excitable dance moves
Starting school is, well, bloody exciting if you ask this little one on the right. And if displaying it with a series of angular arm and neck movements is how she wants to show it, then so be it!
Sarah Scott tweeted us this photo with the caption: '‪#GTKbacktoschool‬ smalls first day and big going into year 3…‪#timeflies‬'
3. The 'look at me' flashback
All this talk of going back to school has made you feel all nostalgic and so you decide to get out your back to school photos. But instead of the floods of compliments you expected about how cute you were, you simply find yourself battling against their howls of laughter trying to explain that everyone looked like that in the 80's. Sigh.
Jim Radford said: '#GTKbacktoschool‬ Just been showing my daughter photos of when daddy went to school….I think I look pretty cool.'
4. The 'I'm just too excited to smile' pose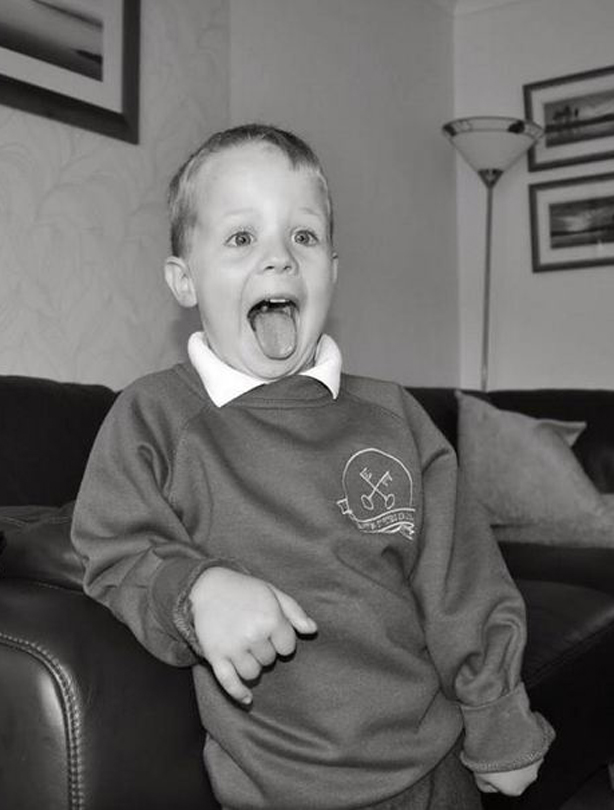 At this stage your little one becomes so excited that they reach an other-wordly level. Their face starts to contort in strange ways and their tongue just won't go back in. But normal back to school photos are just plain boring, right?
Anna Ingram sent us this photo with the caption: '#GTKbacktoschool Henry was very excited!!'
5. The 'they'll grow into it' moment
How adorable is this little lamb who's about to start school for the first time? As mums we all know the importance of making that uniform last, and we think Sophia Rose looks cute as a button in hers.
Jules Eley said: 'My Little Sophia Rose starting school #GTKbacktoschool‬.'
6. The sudden realisation of what's really about to happen…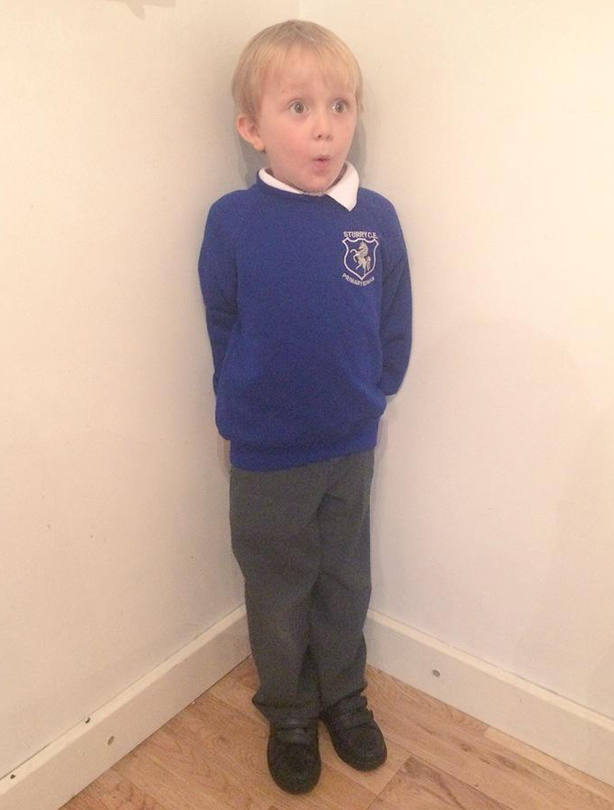 Blimey, going to school is really rather a big deal, and up until now you'd thought it was all just about getting a shiny new pencil case and a rucksack the size of a small hippopotamus. And then the realisation hits!
GoodtoKnow Twitter follower Sammy said: 'I like to think this captures the wonder, and curiosity of the first day at school!'
7. That extra little helper
What? You mean to say my big brothers are off to play with their friends all day while I have to stay at home? That's it! I'm wearing my brightest, most attention-grabbing outfit for this photo, and I'd like to see you stop me!
Majella S Sheehan sent us this cute picture of Luke, Cathal & Sive Sheehan.
You can see all the rest of our back to school photos on our Facebook page:
Have you got any funny back to school photos or stories? Share them with us, below!