'Oh come on ladies!' Storm Keating fires back at trolls who criticised her over a picture of son Cooper
Storm Keating was criticised after the star posted a picture commenting on the colour of nappy her son was wearing.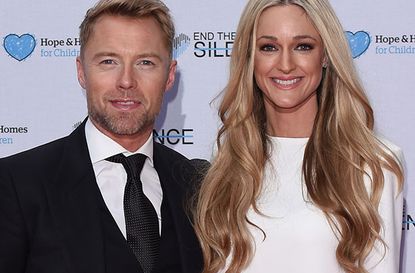 Storm Keating has been sharing simply adorable photos of her baby son Cooper since giving birth to him earlier this year. However, as well as legions of adoring and admiring fans, Ronan Keating's wife has also encountered her fair share of critics online too (opens in new tab).
Storm Keating's latest snap of baby Cooper is no different. The Australian-born fashion designer, who wed singer Ronan Keating in 2015, shared a new photo of her baby boy over the weekend. The sweet snap shows the little one rolling around on a bed wearing a pink, flowery Huggies nappy.
In the caption, Storm explains that she accidentally bought 'girls nappies' instead of boys and blamed her 'baby brain' for the confusion.
'That time your mum didn't realise she bought you the girls nappies instead of the boys ones', she wrote.
Despite the sweet nature of the picture, some of Storm's followers were quick to jump in and criticise the star for caring about what 'colour' nappy her son is wearing.
'That time you realised it was the 21st century and it doesn't matter what colour your child wears...' commented one of Storm's followers, while another added: 'I don't think he will be to bothered about It, its a nappy after all said and done. Does it matter if it does what it is meant to do?'
'Can't actually believe that there are sexed nappies when so many babies in the world don't even have access to one! Has the world gone mad?', said another commenter.
Reading the critical comments on her picture, Storm fired back defending the photo.
She posted: 'Oh come on ladies, it's called having a laugh. No need to be taking a photo of a baby wearing cute nappies so seriously - I'm clearly having the craic!! haha.'
Following Storm's retort, her fans were quick to rally around the star and show their support.
'I love this @stormykeating this is so the sort of thing I would do!! I love your comeback by the way...some people take Instagram pics so seriously!!!'
Others also pointed out that the nappies were actually labelled by gender because they are made differently – with specific absorbency patches depending on where the baby boy or girl would need it most to avoid leaks.
'It's the 21st century and they are actually made differently for boys and girls for absorbency in the right places and it has nothing to do with colour choice and people don't need to get offended about everything' wrote one of Storm's followers.
Another added: 'It's nothing sinister, boy and girl specific nappies have absorbency place in different areas so they don't leak. That's all. There is no agenda at play.'
Comments aside, we're sure Cooper is going to LOVE when his mum and dad get these photos out for his 21st...
Trusted, informative, and empathetic – GoodTo is the ultimate online destination for mums. Established in 2007, our 15-year-strong archive of content includes more than 18,000 articles, 1,500 how-to videos, and 7,000 recipes.