Family share dangers of popcorn after toddler dies from choking on a kernel
Toddler dies after choking on popcorn kernel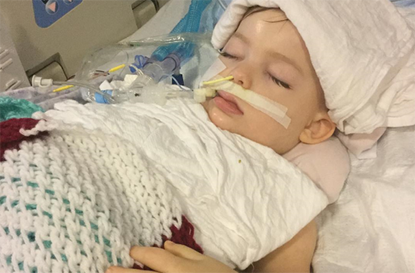 A two-year-old girl has passed away after suffering irreparable brain damage when she choked on a popcorn kernel.
Mirranda's family are now hoping to raise awareness about the dangers of giving toddlers popcorn amongst other types of food that could pose a potential choking threat to children.
On mum Alison's birthday, she and her husband Pat were in their living room when their daughter, Mirranda, burst in while choking on a popcorn kernel. Her cousin wrote a description of the horrific event on the family's GoFundMe page:
'Eyes huge, no sound. Time stopped. Those were the last moments they shared before Mirranda fell to the ground; they swept her mouth, nothing; Pat started CPR. The ambulance got there, Mirranda's heart stopped,' wrote Bobbi Jo Cordle.
The kernel was stuck deep in the two-year-old's throat, and she was rushed to hospital. The doctors at VCU Medical Centre in Virginia resuscitated Mirranda, but warned her parents that their child had suffered severe and irreparable brain damage.
'Mirranda's heart started beating, she was incubated and placed on a ventilator and transferred to Children's Hospital at VCU,' wrote her cousin.
After staying on the ventilator for two months, doctors wanted to perform a brain death test on the toddler, which would involve taking away her breathing vent to see whether she could breath by herself, only to replace it quickly if she failed.
Mirranda's parents were completely against this, and tried to sue the hospital.
'She's not acting like someone who is brain dead,' Pat told NBC News.
Image: Bobbie Jo Cordle/GoFundMe
However, the case was never settled - Mirranda's condition rapidly worsened, leading to kidney failure and eventually, her death on 1st November.
The medical centre issued an official statement about Mirranda's passing:
'We extend our deepest sympathies to the Lawson family as they grieve Mirranda Grace's death. During the several months Mirranda was at our hospital, we saw the Lawson's enduring love and support of their daughter in dealing with the tragedy.
'Mirranda's medical team demonstrated the highest-levels of quality and compassionate care for her and her family. Our thoughts and best hopes remain with the Lawsons.'
'This was all caused by a piece of popcorn,' wrote Mirranda's cousin. 'Please share the danger of popcorn, someone may not know.'
According to the NHS, food is the number one choking hazard for children, with grapes, whole nuts, boiled sweets, raw jelly cubes and other hard, slippery or round foods the worst culprits.
Trusted, informative, and empathetic – GoodTo is the ultimate online destination for mums. Established in 2007, our 15-year-strong archive of content includes more than 18,000 articles, 1,500 how-to videos, and 7,000 recipes.