Olympic-inspired baby names: Would you name your baby after a member of Team GB?
Although Isla and Alfie are the most popular baby names, Jessica, Chris and Victoria may soon top the baby name charts after parents take their inspiration from Olympians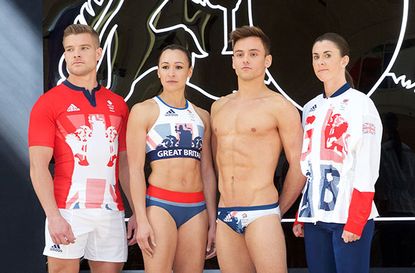 When it comes to choosing a baby name for your little one, the decision-making process can be tough! We've rounded up some of the best Olympic-inspired baby names for inspiration.
There are so many options to choose from, but if you need a little help picking one, why not look to the sportsmen and women of the moment?
After all, some of the fastest, strongest and most dedicated people in the world are Olympians in the GB team, so who could be a better bunch to name your offspring after?
If you're looking for baby name inspiration, take a look at our Olympics round up for a whole host of ideas for your baby boy or girl. We've created a list of our top baby names taken from both the men's and women's Olympic teams that competed in the 2012 London and 2016 Rio games.
Top 10 Olympic-inspired girls' names for 2016:
1. Jazmin, after swimmer Jazmin Carlin 2. Elissa, after gymnast Elissa Downie 3. Maddie, after field hockey player Maddie Hinch 4. Amber, after skeet shooter Amber Hill 5. Rebekah, after weight lifter Rebekah Tiler 6. Molly, after swimmer Molly Renshaw 7. Alicia, after diver Alicia Blagg 8. Chloe, after swimmer Chloe Tutton 9. Ruby, after gymnast Ruby Harrold 10. Lily, after field hockey player Lily Owsley
Top 10 Olympic-inspired boys' names for 2016:
1. James, after swimmer James Guy 2. Adam, after swimmer Adam Peaty 3. Max, after gymnast Max Whitlock 4. Ashley, after judoka Ashley McKenzie 5. Liam, after table tennis player Liam Pitchford 6. Joe, after boxer Joe Cordina 7. Kristian, after gymnast Kristian Thomas 8. Ross, after swimmer Ross Murdoch 9. Lawrence, after boxer Lawrence Okolie 10. Nile, after gymnast Nile Wilson
Top 10 Olympic-inspired girls' names from 2012:
1. Jessica, after heptathlete Jessica Ennis 2. Victoria, after cyclist Victoria Pendleton 3. Zara, after ressage rider Zara Phillips 4. Kat, after rower Kat Copeland 5. Tonia, after diver Tonia Couch 6. Nicola, after boxer Nicola Adams 7. Charlotte, after dressage rider Charlotte Dujardin 8. Jade, after taekwondo champion, Jade Jones 9. Laura, after track cyclist Laura Trott
Top 10 Olympic-inspired boys' names from 2012:
1. Chris, after cyclist Sir Chris Hoy 2. Tom, after diver Tom Daley 3. Louis, after gymnast Louis Smith 4. Mo, after double long-distance runner Mo Farah 5. Anthony, after boxer Anthony Joshua 6. Alistair, after triathlete Alistair Brownlee 7. Ben, after sailor Ben Ainsile 8. Peter, after shooter Peter Wilson 9. Fred, after boxer Fred Evans 10. Michael, after swimmer Michael Jamieson
Have you named your little one after a Team GB Olympian? Let us know in the comments below!