Parents devastated to find baby son's 'cute' tongue flicking habit was a symptom of rare genetic condition
'We thought it was the brand of milk'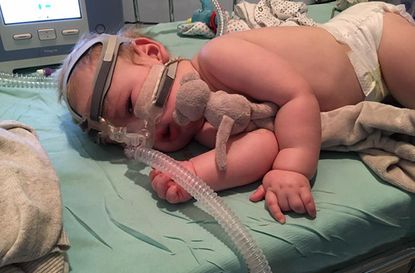 Two new parents have revealed their devastation after learning that their baby son's 'cute' habit was actually a symptom of a serious condition.
Tyler James Hadley, from Portsmouth, was just five months old when his parents Lisa Money and Louis Hadley rushed him to hospital after choking on the Calpol they had given him for suspected teething pains.
By this point, the couple had already noticed that Tyler wasn't developing at the rate he should be, and had booked in to see the family GP for the week after the emergency hospital visit.
'We had friends who had babies around the same time and they were doing things like moving and trying to roll over, but Tyler wasn't doing anything like that,' dad Louis explained to the Mirror.
One particular trait that Tyler developed in his first months was 'flicking' his tongue in and out, which his parents noticed, but simply thought was 'quite cute.'
'We didn't imagine there was something wrong,' Louis added.
https://www.facebook.com/TJHadley2016/photos/rpp.1833570146860592/1833571056860501/?type=3&theater
Tyler was also struggling to swallow and support himself upright, which combined with his tongue-flicking habit led doctors to become concerned.
After investigating further, they diagnosed him with the rare genetic condition SMA, which means his muscles are extremely weak. The condition affects the motor neurons in the spinal cord, interrupting the messages to make muscles move, which eventually start to shrink from lack of use.
Tyler was diagnosed with Type 1, the most severe form, and may not live to see his second birthday.
'We had never heard of it, and had no idea what is was,' said Tyler's distraught dad. 'We thought it was the brand of milk.'
Heartbreakingly, there is no cure for the condition - but Louis and Lisa heard about a new drug being developed to treat the symptoms and prolong the sufferers' life. It is currently undergoing trial in the UK, but the family learnt that there are some European countries that offer the medication privately.
Friends of the family have set up a GoFundMe page, where they have managed to raise the initial £3,000 for Tyler's first round of treatments.
https://www.facebook.com/TJHadley2016/photos/pcb.1834986893385584/1834986743385599/?type=3&theater
However, they are still a long way off their target - Louis estimates that the overall cost of the treatment, travel and equipment needed to care for baby Tyler will be somewhere in the region of £50,000. He'll need injections every four months, and each time the family will have to travel to Paris.
'We don't know whether this treatment is going to help him, but we are willing try anything,' concluded Louis.
'We have heard from other parents that this drug can help and to stop the progression of SMA and children who have this can live longer. We know that even if this helps Tyler, he is going to have disabilities and problems, but we would just be happy to have him here and given him a good life.'
Trusted, informative, and empathetic – GoodTo is the ultimate online destination for mums. Established in 2007, our 15-year-strong archive of content includes more than 18,000 articles, 1,500 how-to videos, and 7,000 recipes.