Study warns vaping and nicotine patches could increase risk of SIDS
The risk of SIDS can increase if you smoke during pregnancy.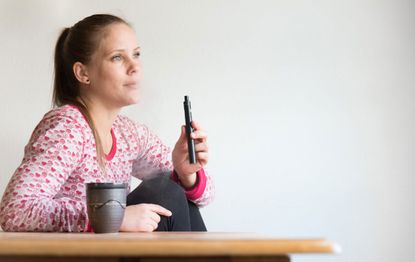 A new study has warned that using vapes, nicotine patches and e-cigarettes during pregnancy could increase the risk of your baby dying from Sudden Infant Death Syndrome (SIDS).
Everyone knows that smoking during pregnancy is incredibly harmful for an unborn child. Not only can it increase the risk of miscarriage, but it can lead to small or premature babies and a study from 2011 found that it increases the risk of birth defects like missing limbs or club foot.
While many expectant mothers often try to quit their habit during pregnancy a study from 2016 found that 90 per cent of pregnant smokers failed to quit before their baby was born.
Many smokers, pregnant and not, have started using aids such as vapes and nicotine patches to try and reduce their smoking habit. These satisfy an individual's craving for nicotine while reducing the intake of toxic chemicals such as tar.
Long-term vaping is thought to be much safer than long-term smoking but the health risks are still unclear. The study proved that e-cigarettes and Nicotine Replacement Therapy can reduce the harm smokers suffer by reducing their exposure to toxic chemicals.
However, despite the overall health improvements, new research suggests using such products can be dangerous during pregnancy.
Although vaping and e-cigarettes is better than smoking it's still better to try and quit completley
The study, conducted by researchers from the Geisel School of Medicine at Dartmouth, USA and published in the Journal of Physiology, found that being exposed to nicotine in the womb could affect a baby's central nervous system and cardiorespiratory responses.
Mice pups with and without a serotonin deficiency were exposed to nicotine and had their oxygen limited and their recoveries were monitored.
The NHS website explains: 'Serotonin is a neurotransmitter (chemical messenger) usually associated with mood disorders such as depression.
'But the chemical also plays an important role in regulating breathing. It's thought to stimulate what's known as autoresuscitation.
'This is an automatic response from the nervous system that causes the body to gasp for air if oxygen levels drop to a dangerously low level.'
It is thought that not being able to properly recover from a reduced oxygen supply could increase the risk of SIDS, although it should be stressed that the cause of SIDS is still unknown and that certain factors are thought to increase the risks of it occurring.
The NHS state that using nicotine replacement treatments such as vapes is still a healthier option for you and your baby compared to traditional cigarettes but expectant mothers should aim to quit smoking all together.
If you want to quit smoking head to the NHS website or visit your local GP to discuss your treatment options.
Jessica currently works as a Senior Food Writer at Future. She writes food and drink-related news stories and features, curates product pages, tests, and reviews equipment, and also develops recipes that she styles on food shoots. An enthusiastic, self-taught cook Jess adores eating out and sharing great food and drink with friends and family. She has completed the Level 1 Associate course at the Academy of Cheese and is continually building on her knowledge of beers, wines, and spirits.